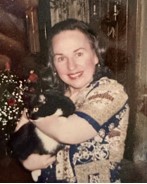 Lewisburg-Judith Crichton James, 83, died Friday, Nov. 10, 2023 at the Seasons in Lewisburg.
Judy was born Apr. 18, 1940 in Johnstown, PA, the daughter of the late Andrew B. Crichton, Jr. and Helen Croll Crichton.
Deaf from birth, Judy attended the Central Institute for the Deaf in St. Louis, MO, and later the Clarke School for the Deaf in Northampton, MA, from which she graduated. Judy was a sweet, generous person who always greeted friends and family with a smile. She loved the Lord all her life. She loved Scotland, where the Crichtons came from. She loved kittens, and cats-sometimes many cats but in her last days, only one, the black and white Java ("a wonderful cat," Judy always said), who lived in her room at the Seasons and was cuddled up close to her as she passed away.
Judy also loved the color pink. As a child in Bethesda, MD, she had a little pink car she would drive around her backyard. She liked to be called Pinky and wore pink at every opportunity.
Judy's open nature led her to explore a wide variety of interests. A great beauty as a teenager, she modeled in fashion shows in the Washington, DC area. Later she worked as a secretary in government offices. She became fascinated with psychic phenomena and séances and became good friends with the famous psychic, Jeanne Dixon.
After she moved to Lewisburg, she led a Deaf Ministry, inviting people to worship in her home once a month.
Other than her parents she was preceded in death by her daughter, Heather Sprinkle.
Surviving are her husband of 25 years, Robert Lee James; her granddaughter, Helen Maher and great-granddaughter, Athena Rose Maher, both of California. She is also survived by her aunt, Jean Crichton Gunhouse; her uncle, Alan Crichton; her loving friends, John Burdette, Erin Fulton and their daughter Jambi and many friends and family members.
Funeral services for Judy were held on Thursday, Nov. 16, at the Wallace & Wallace Funeral Home in Lewisburg where Pastor Randy Burdette officiated. Interment followed in the Wallace Memorial Cemetery in Clintonville, WV.
Visitation was one hour prior to the service on Thursday.
Flowers were accepted or contributions may be made to the Greenbrier County Humane Society, 151 Holliday Lane, Lewisburg, WV 24901.
Wallace & Wallace Funeral Home in Lewisburg is in charge of arrangements. Please send online condolences by visiting www.WallaceandWallaceFH.com.