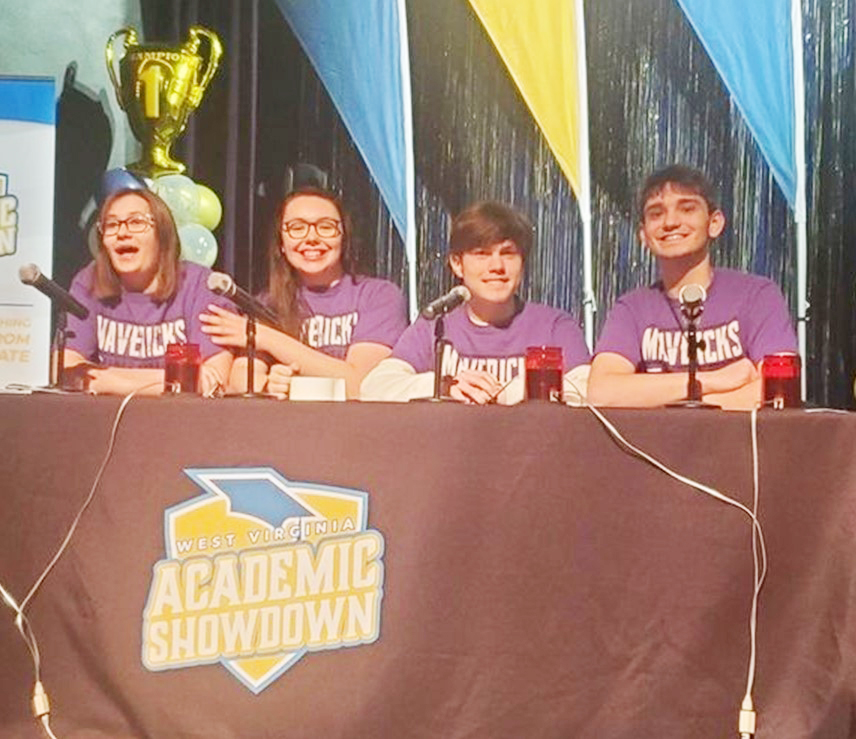 The James Monroe High School (JMHS) Academic Showdown Team #1 took fourth place at the 2024 State Tournament at the West Virginia Culture Center in Charleston on Mar. 31. Senior Madisen McMillion (Captain), and Juniors Elizabeth Adkins, Cole Thomas, and Bryceson Whitt excelled in the Maverick's first ever foray into this intense competition. The team qualified for the state tournament by winning the regional Academic Showdown hosted by Concord University on Mar. 10.
In addition, Madisen McMillion was named a member of the All-Star team. She was also the driving force behind the team's creation this year, along with coaches Mrs. Ashley Mann and Mrs. Stormy Thorne.
The Academic Showdown competition is a gameshow format consisting of two rounds in double elimination tournament play. Round one is alternating questions for each team with the possibility to "steal" the other team's points if they get a wrong answer. Round two is an individual response using buzzers similar to Jeopardy. Topics include a wide array of detailed questions about history, geography, literature, mathematics, biology, chemistry, physics, visual arts, and current events.
Preparation for a competition at this level requires much focus, preparation, and some travel. If you wish to contribute time, expertise, or funds to this endeavor please contact Dr. Scott Womack, at 304-753-5182, on Facebook Messenger, or via email at swomack@k12.wv.us.