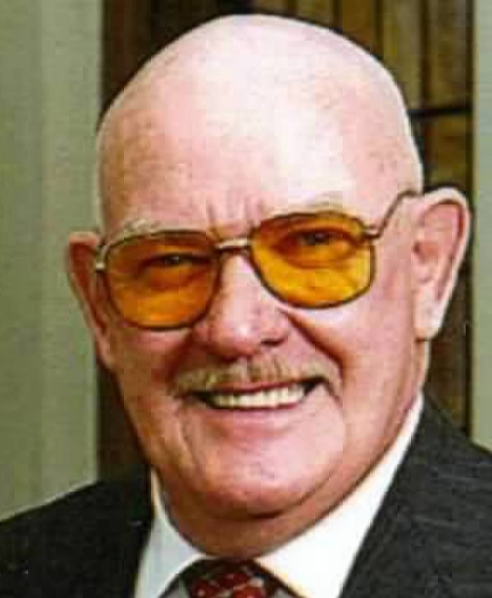 Amelia, VA – Henry Herbert Holliday, also known as Herb, passed away peacefully in his daughter's home in Amelia, VA, on Aug. 16, 2013, at the age of 96.
He was born on Oct. 25, 1926, in West Virginia. Herb was a strong and active man who took care of his own needs until the very end. He was deeply loved by his family and neighbors. Known for his generosity and willingness to help others. Herb was a Godly man who found solace in his faith.
Herb is survived by his daughter, Kathy Ingram (Jeff Ingram); grandsons, Robert (Robbie) Hicks (Jewel Hicks) and Eric (Jason) Keister; granddaughter, Jillian Harlow (Brandon Harlow); his great-grandchildren, Kayla Yates (CK Yates), Kirstie Keister, Ethan Hicks, Emily Hicks, Hailey Harlow, Caleb Harlow and Mason Keister; as well as great-great-grandchildren Rylee Yates and Karlie Walker; nieces, Barbara Holliday and Donna Cullen (Brandt Cullen).
He was preceded in death by his wife, Bonnie Jean Holliday; daughter, Cynthia (Cindie) Holliday; father, Henry Herbert Holliday, Sr.; mother, Nina Georgia Holliday; brothers, Paul M. Holliday and Robert Holliday; and nephew, Paul A. Holliday.
Herb was an avid outdoorsman and he enjoyed hunting, fishing, camping, boating and shooting. He cherished the time he spent with his children, grandchildren and great-grandchildren. Herb was known as a jack of all trades, always willing to lend a helping hand to friends and family. His heart belonged to the mountains of West Virginia, where he loved living and creating memories.
A celebration of life will be held Sept. 2, at 11 a.m., at Union Baptist Church, 22110 Genito Rd., Amelia, VA 23002 to honor Herb's memory.
In lieu of flowers, contributions can be made to St. Jude or Union Baptist Church, organizations that held deep meaning to Herb.
Herb will be remembered as a loving husband, father, grandfather, great-grandfather and great-great-grandfather, as well as a devoted friend and neighbor. His legacy of kindness, faith and love will forever be cherished by those who knew him.