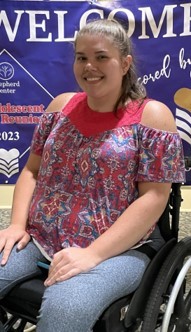 White Sulphur Springs
-Hattie Rae Callison, 22, ained her angel wings on Saturday, Sept. 30, 2023.
Born Aug. 4, 2001 at Low Moor, VA, she is a daughter of Steve and Pamela Lyall Callison of White Sulphur Springs.
Hattie was a 2019 graduate of Greenbrier East High School, loved hunting, fishing, the outdoors, being with family and friends, and loved going on vacations. Hattie was an inspiration to all that knew her, was never seen without a smile on her face and she never give up even after having been a paraplegic.
She was preceded in death by grandfathers, Jess R. Lyall and Erman Callison; and a grandmother, Marceline Callison.
In addition to her parents, she is survived by a brother, Ryan Callison and sister, Ashley Callison; grandmother, Peggy Lyall; uncles, Mike Callison (Kathy), Tommy Radford (Angela) and Greg Lyall (Tess); special cousins, Ashleigh Lyall, Autumn Radford, Chance Lyall, Austin Lyall, Afton Lyall and Jeremy Radford; a very special nephew, Bryer Callison, who was like a brother to her, as well as his siblings, Warryn and Madilyn; and a niece, Nicole. She is also survived by special friends, Natalie Harper, Hallie Grimm, Karlei Shaver and Brittany Lowe and her loving dogs, her German shepherd, Maicie and Maxx and Hunter.
Funeral services were held on Thursday, Oct. 5, at the Alvon Living Word Church, where Pastors Robert McClintic and Lloyd Camp officiated. Burial followed in the Little Creek Presbyterian Church Cemetery.
Visitation was at the church on Wednesday evening, Oct. 4.
In lieu of flowers, the family suggests donations of sympathy be made to The Shepherd Center, 2020 Peachtree Rd NW, Atlanta, GA 30309 or visit shepherd.org in memory of Hattie Callison. They provided care for Hattie when she had her hunting accident and became a paraplegic in 2020.
Pallbearers were Jeremy Radford, Gregg Church, Jody Church, Greg Radford, Chance Lyall and Joel Camp.
Wallace & Wallace Funeral Home in White Sulphur Springs is in charge of arrangements. Please send online condolences by visiting www.WallaceandWallaceFH.com