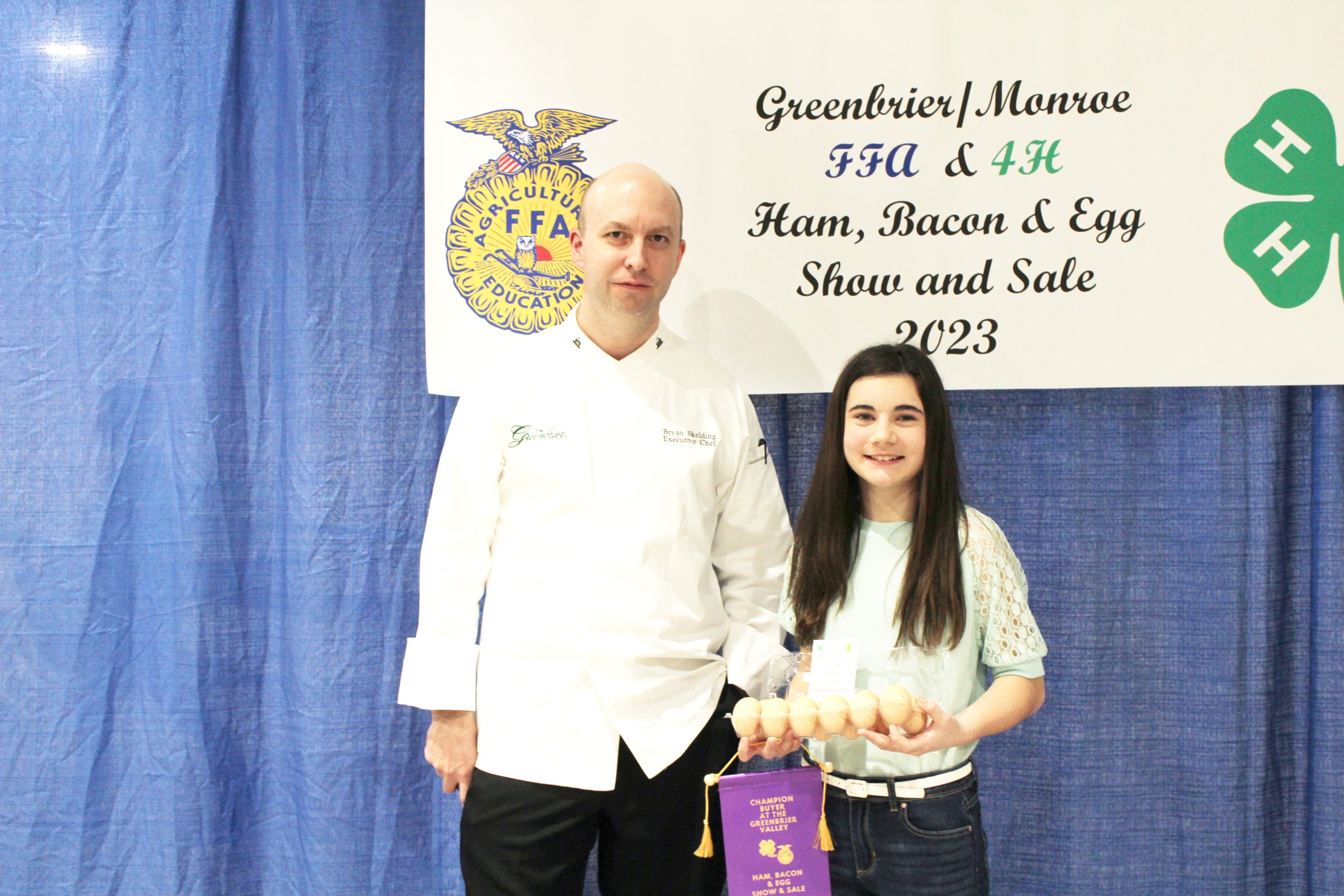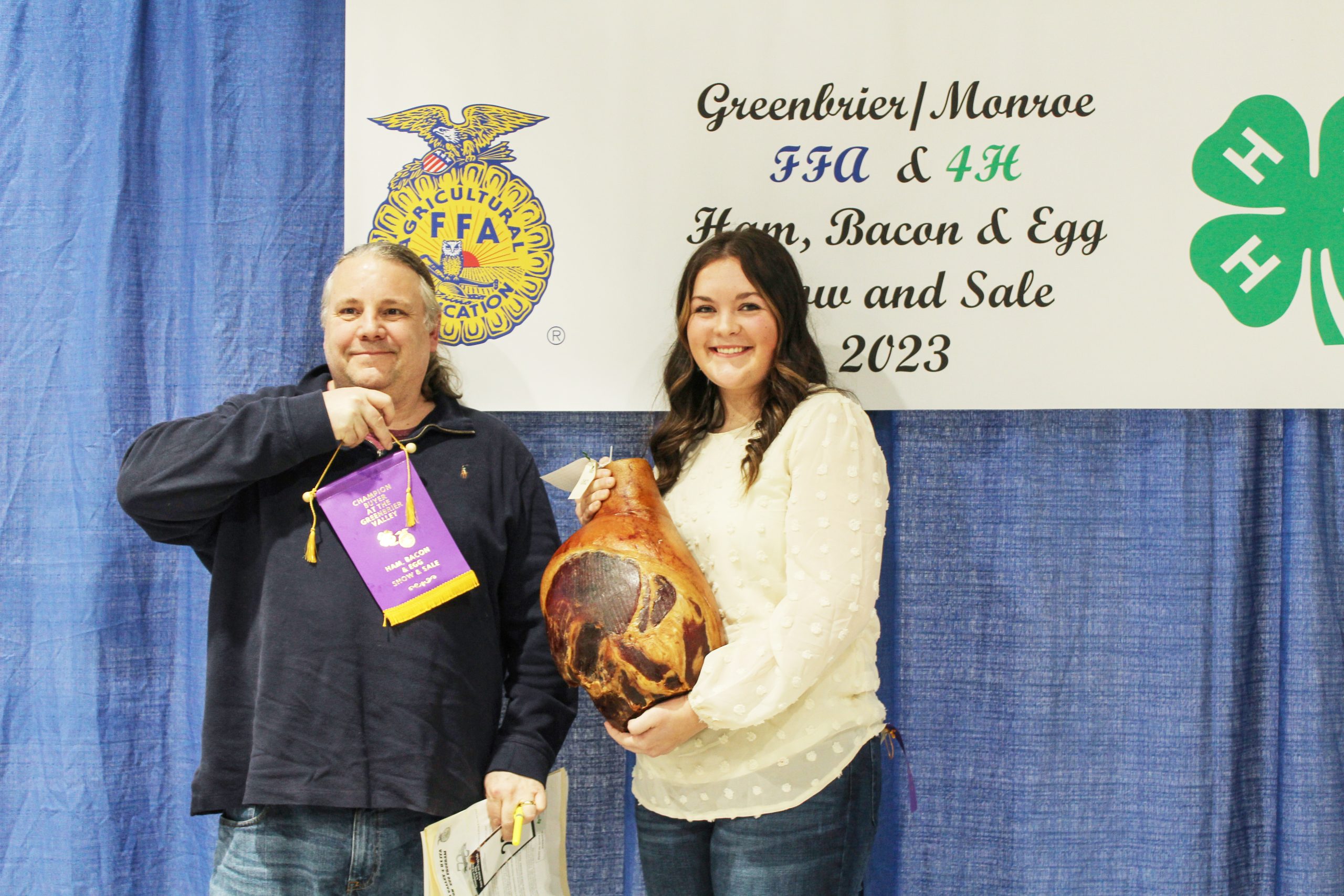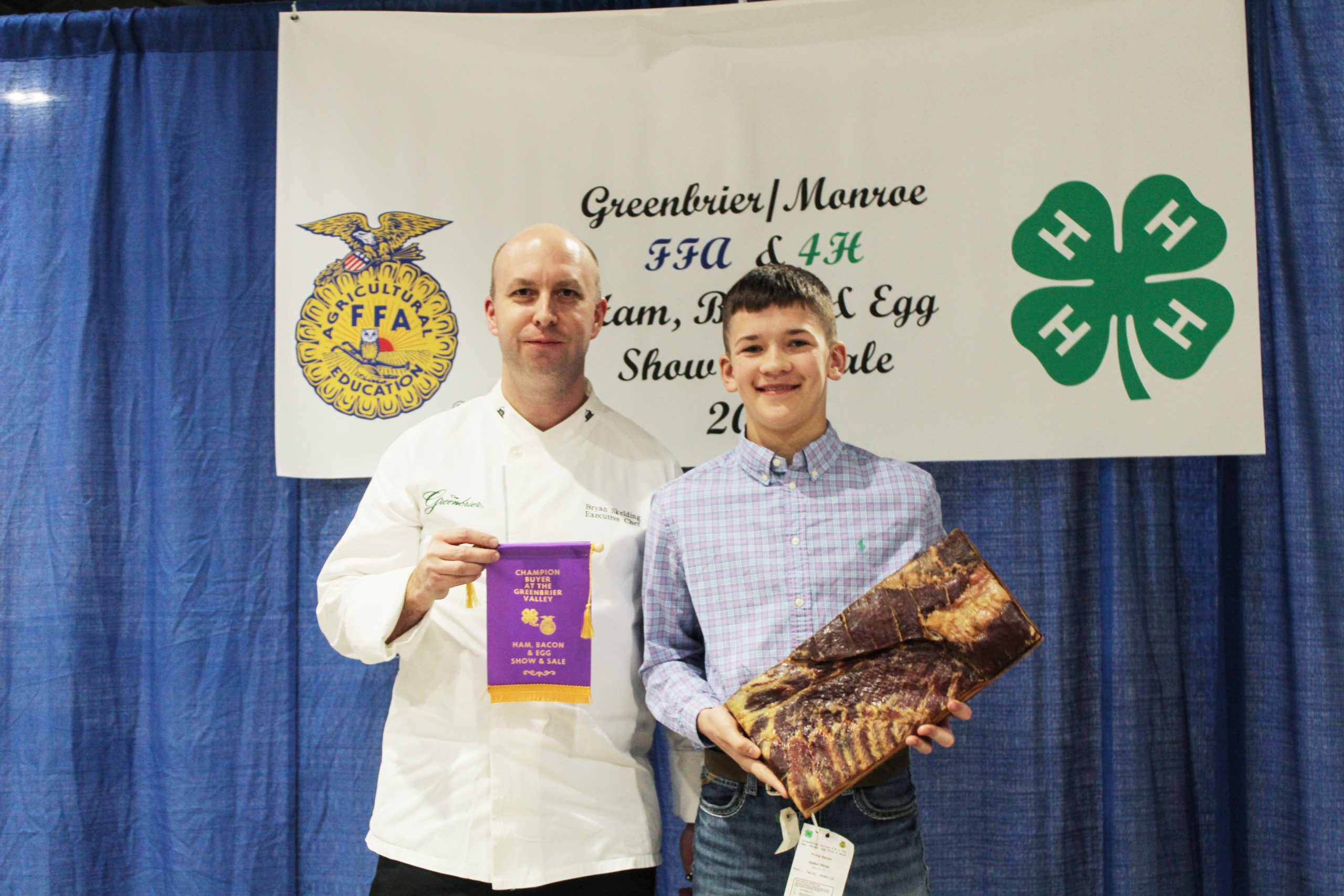 The 72nd Annual Greenbrier Valley 4-H and FFA Ham, Bacon, and Egg Show and Sale was held on Friday, Mar. 17, and had 80 participants showcasing 119 items for a sale totaling $112,874.66.
This program allows youth in FFA and 4-H to take their livestock project a step further, while turning them into young entrepreneurs! Participants with poultry projects are trained to successfully raise a laying hen, as well as how to select a perfect dozen of eggs based on interior and exterior quality. Swine participants are instructed on the proper procedures and techniques to cure a ham and bacon taking their product from harvest to the dinner table. These carefully crafted products are then judged for quality and auctioned off to dedicated supporters of FFA and 4-H in the area.
With the combined support of parents, volunteers, local businesses, 4-H Clubs, FFA chapters, and WVU Extension, youth across Greenbrier and Monroe Counties continue to expand their knowledge, master skills, and build character through the Ham, Bacon and Egg Program.
This year's ham and bacon judge was Virgil Wilkens, a retired Vocational Agriculture Instructor from Hundred High School in Wetzel County. Our eggs where judged by the West Virginia Department of Agriculture Regulatory and Environmental Affairs Division.
Greenbrier and Monroe County 4-H and FFA would like to thank the following buyers: Carola & Sons Carriage Service, The State Fair of WV, The Lemon Hotel, Greenbrier Valley Medical Center – Tim Bess, Stephen Baldwin, Monroe Health Center – Sophia Sibold, State Farm Insurance- Sue Spicer, Second Look – Norma McNeely, Beech Ridge Energy – Michelle Cales, Farmers Home Fire Insurance – Todd Arbuckle, Southern States – Chelsea Black, McCoy Fencing – Chad McCoy, Calvin and Terry Elmore, Black Pine Investments – Adam Rogers, Aviagen Turkeys INC – Danny Dodrill, Gary's Garage – Gary Thomas, Smooth Ambler Spirits – Paul Jackson, Tractor Supply – Chris Vanfosson, David L. Ryder Contracting, McDaniel Preowned – Jason McDaniel, Greenbrier Excavating & Paving, Farm Credit of the Virginias, WO3 LLC – Jeannie O'Brien, James River Equipment – Kevin Deitz, The Greenbrier – Adam Long, Ashley Spencer DVM, The Schoolhouse Hotel – Jesus Vazquez, Mountaineer Farm Center – Jim Fleshman, Andrew Vance, Buckland Cattle Farm – Stephen Broyles, The Bank of Monroe – Jim King, Brier Properties, Tractor Supply – John Grim, M&M Used Cars, Wallace & Wallace – Pam Arnold, American Self Storage – Adam Long, Long Farm – Charlie Long, Valley Vet Clinic – Sabrina Dowdy, Gillespie Flowers – Charlie Gillespie, Bobby's Lawn Care – Bobby Sams, Greenbrier Valley Outdoors – Jon Myles, Rolling Hills K Farms – Denny Kowalksy, Rasman Walker – State Farm, Richard Turschmann, Sr., Ironsides Animal Health – Oliver Irons, Greenbrier Ford – Grant Talbott, Greenbrier Motor Co. – Grant Talbott, Kalab and Jill Hughart, Napa Wilson Bros – Steve Wilson, Monroe Day Care- Michelle McFall, and John Grim.
Appreciation also goes to the auctioneers Billy Morgan, Ben Morgan, and Chub Warren.
We are grateful for Radio Greenbrier and The Bear 103.1 for broadcasting before the sale, and to their sponsors: Boone Tractor, Todd Belcher Insurance, and H & M Electric and Constriction.
Thank you to our sponsors this year: The State Fair of West Virginia, Greenbrier & Monroe 4-H, FFA Chapters & Advisors, Greenbrier & Monroe County Extension Agents and Staff, Lewisburg Lions Club, Greenbrier Meats, Smoot Smokies 4-H Club, Farm Credit of the Virginias, and Lone Oak LLC.
The Annual Greenbrier Valley 4-H and FFA Ham, Bacon and Egg Show and Sale will be held in March 2024. Come out and support the future of agriculture in West Virginia!