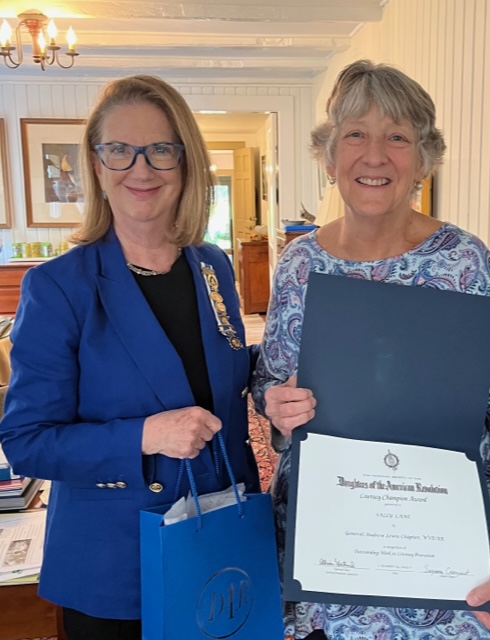 The General Andrew Lewis Chapter, NSDA welcomed incoming Regent Suzanne Cronquist at the October meeting at the home of Judy Deegans on Oct. 19.  Barb Hiltner served as the co-hostess. The group welcomed two new members, Shirley Runyon and Brenda Rivers.  
Regent Cronquist introduced Sally Lane who spoke to the group about Literacy in West Virginia and more specifically Greenbrier County. Lane presented a menu of literacy efforts in West Virginia and presented opportunities for volunteers in ongoing literacy projects. She has been a spokesperson and innovator for literacy efforts directed at children. It was stated that inability to read at grade level by third grade is a predictor of high school dropout and job failure. Lane was presented with the DAR Literacy Champion Certificate for her service to our community and across West Virginia. It is obvious Lane loves what she is doing. Her enthusiasm is contagious.
Regent Cronquist reported that Oct. 11, 1890, was the founding day for the Daughters of the American Revolution. First Lady Caroline Harrison was the original President General. DAR Daughters across America celebrate the Oct. 11 Anniversary as an annual "Day of Service."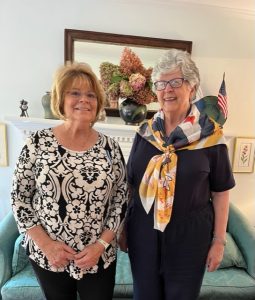 The meeting was closed with the American's Creed. The next meeting will be at the Aquatic Center with hostess, Nancy Greenstreet.
The National Society Daughters of the American Revolution is a nonprofit, non-political women's service organization whose main objectives are historic preservation, education and patriotism. Members are all lineal descendants of those who supported the cause of independence in the Revolutionary War back in 1776. 
If you are interested in the Daughters of the American Revolution, call Registrar Sandra Cowan at 304-497-3553.