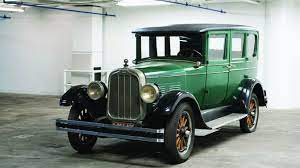 By William "Skip" Deegans
In 1923, C. D. Price, Rupert car dealer, brought to Lewisburg a new 1924 Chandler automobile. The purpose of his visit was to demonstrate Chandler's "Pike's Peak" engine. In 1923, Chandler introduced a six-cylinder engine that it advertised as "The New Pike's Peak Motor, Built to Master a Mountain." Its boasting was not without merit. Race driver, Raph Mulford, drove a Chandler to the top of the 14,000-feet Pike's Peak in 1923 for a new record of 17 minutes and 0 seconds. The engine was 288.6 cubic inches with an alloy piston. It delivered 55 horsepower at 2500 RPM. The 1924 model had a constant-mesh gearbox that reduced the need for extra clutching while downshifting. It would be several years until General Motors introduced the first synchromesh transmission. 
Price had heard of efforts of cars trying to climb in high gear the grade up the private road to the summer home (now known as Tuscawilla Farm) of Charleston stockbroker, John S. Dana. Price pulled off the Frankford Turnpike (Rt. 219) and drove to the top of Dana's road in high gear where he found Dana. Price was met with disbelief and Dana and two ladies who were residing at his home rode in the car as Price climbed the hill again. Dana said many cars had tried to climb the hill in high gear, but Price's Chandler was the first to make it.
The Chandler Motor Car Co. was founded in 1913 in Cleveland, Ohio by Frederick C. Chandler who had worked for the Cleveland Bicycle Co. Chandler sold his company in 1928 to Hupp Motor Car Corporation. 
Photo: Courtesy of www.custom.com
Sources: The West Virginia News courtesy of West Virginia Daily News; Hemmings, Case Western Reserve