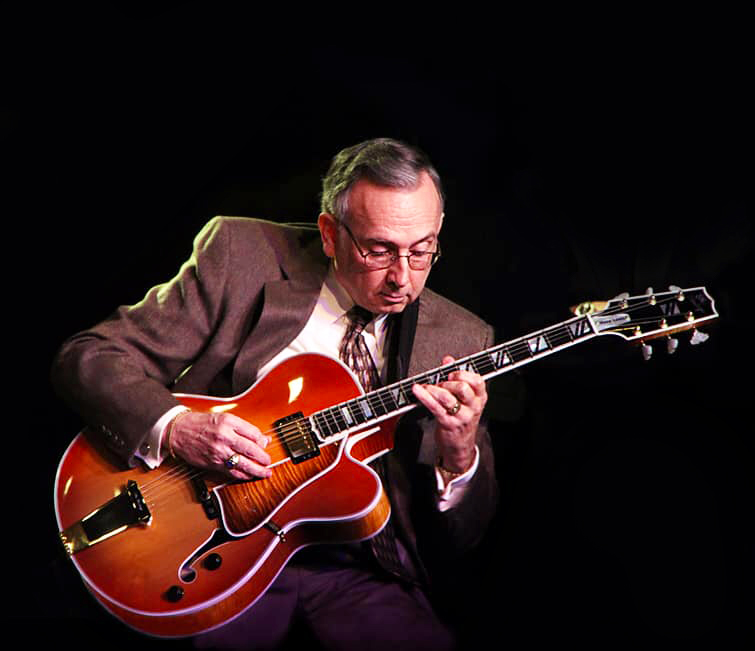 Carnegie Hall is pleased to present jazz group Vince Lewis Sextet in the Old Stone Room on Thursday, Apr. 27, at 7:30 p.m. The concert is sponsored by Local 674 of the American Federation of Musicians, with funding provided by the Music Performance Trust, and is free and open to the public. The Old Stone Room is located on the ground floor of Carnegie Hall.
Vince Lewis is a veteran jazz performer, composer, and recording artist. He has been a headliner at Jazz Festivals with Dave Brubeck, B.B King, Ellis Marsalis, Lou Rawls, Mundell Lowe, John Pizzarelli, and Melissa Manchester. Lewis has been a featured performer in concert at The Kennedy Center in Washington D.C. as well as two performances at the Smithsonian Institute Jazz Bar. He also has served as Staff Guitarist at the Ritz-Carlton Resort Palm Beach, FL and at The Greenbrier Resort.
Jim Carlton, in Conversations with Great Jazz and Studio Guitarists, says "His playing is indicative of the rarified air of true mastery. He routinely creates engaging and excellent music." Lewis was the cover picture and feature interview in the Feb 2014 issue of Just Jazz Guitar Magazine and has been noted as one of the leading active Jazz Artists in the Jazz Guitar category each year since 2002 by Jazz Improv Magazine. He is also currently in the "In the Wings" category and has been notified of his future induction into the West Virginia Music Hall of Fame.
Lewis is included in the 2014 Scott Yanow book "The Great Jazz Guitarists…The Ultimate Guide". He has recorded 20 CDs as a leader and sideman, and each has received excellent critical acclaim in virtually every major Jazz publication. In addition, he is a Heritage Guitar Inc, Benedetto Guitar, Eastman Guitar, Breedlove Guitar, SIT Strings, and Redstone Audio performing Artist, and has a Vince Lewis signature archtop guitar available built by Richard Ralston, a noted New Zealand luthier. Lewis also developed and directed the Classical and Jazz Guitar programs at the University of Charleston, Marshall University, Palm Beach University, Liberty University, and Bluefield College. He has taught at the post-secondary level for 48 years, conducted Jazz Guitar workshops, and created courses in improvisation and other jazz-related subjects at the university level. His chord melody arrangements for solo guitar appeared regularly in Just Jazz Guitar Magazine. Lewis currently serves as an Adjunct Professor of Music and Guitar at Bluefield College in Bluefield, VA, and is a regular educational contributor to Jazz Guitar Today online magazine.
Lewis will be joined at Carnegie Hall by Jeff Bryant (trumpet), Bob McGraw (harmonica), Birch Graves (saxophone), Gary Williams (percussion), and James Turner (bass).
The event is free admission and sponsored by Local 674 of the American Federation of Musicians, with funding provided by the Music Performance Trust. For more information, please visitwww.carnegiehallwv.org, call the Carnegie Hall Box Office at 304-645-7917, or stop by at 611 Church Street, Lewisburg. Carnegie Hall Box Office is open Monday through Friday, 10 a.m. until 4 p.m.