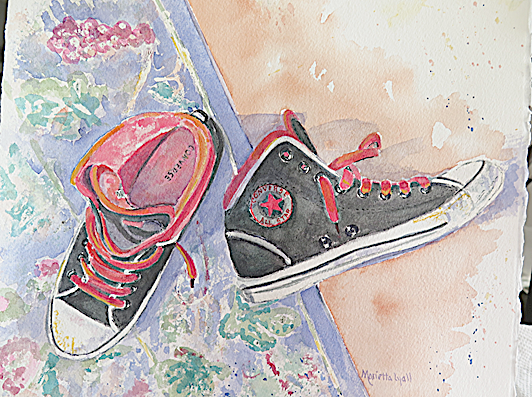 The Greenbrier Artists Group continues to display paintings in the Greenbrier County Library in Lewisburg. Every two months a different artist is featured.
During March and April, Marietta Lyall will exhibit a variety of paintings, many of them done during this crazy, pandemic year.  She has also included a few "gelli" plates, a creation involving various layers of heavy paint, leaves, feathers, and other objects to make interesting designs.
Marietta has been a member of the Greenbrier Artists for many years, serving as the secretary for the nonprofit. She has won many awards locally and in Virginia, and her art is exhibited in homes from Florida to the west coast. She is a member of Tamarack and a lifetime member of the WV Watercolor Society. She also maintains a display of her art on Washington Street in the Allstate Office window near city hall. She has a working studio near Lewisburg.
If you would like to see more of her work, please call 304-645-1359 and leave a message.
Hopefully, the Greenbrier Artists will soon be able to meet again on Thursdays at Carnegie Hall to paint and have classes to promote art in the community.
Please stop by and enjoy the revolving exhibits at the library. Their current hours are Tuesdays through Fridays from 9 a.m. to 5 p.m. and Saturdays from 11 a.m. to 4 p.m.