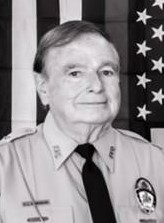 Milford-Eugene L. Cohenour, 75, passed away unexpectedly Thursday, Nov. 19, 2020, surrounded by family.
Gene was born Dec. 19, 1944, in Rupert.
At the age of 16 while attending a church picnic, he met the love of his life, Eleanor, whom he married at the age of 17. Their love and devotion to each other has grown ever since.
Gene proudly served in the United States Army and continued his service as a Fairfax City Police Officer, retiring in 1983 after being injured in the line of duty.
Along with being an active and devoted member with Salem Baptist Church, Gene continued to serve his community volunteering with Glory Outreach in Milford and surrounding area.
Gene loved camping, cruising, four wheeling and family outings riding on his Indian motorcycle trike.
Gene is survived by his loving and devoted family.
Gene was preceded in death by the love of his life and best friend, Eleanor C. Cohenour, May 2015.
Gene looked forward to meeting his Lord and Savior Jesus Christ and being reunited with his wife, Eleanor. In the words of Gene: "Don't cry for me, Walk it off."
Matthew 5:9 Blessed are the peacemakers, for they will be called children of God.