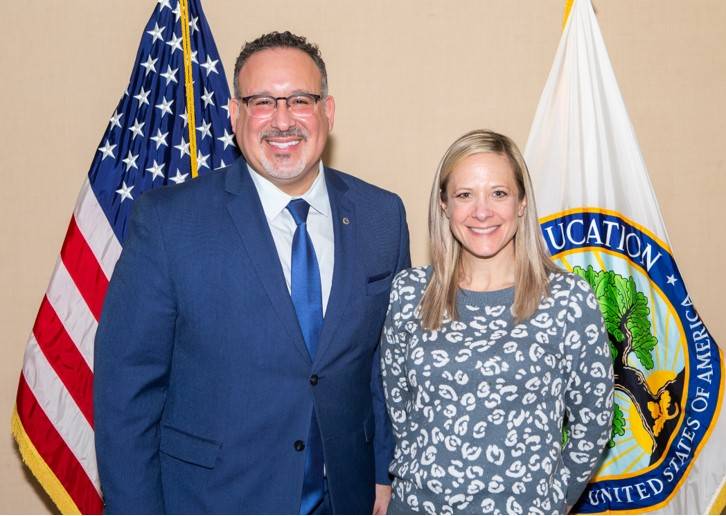 By Adam Pack
Dr. Erin Drickey Justice, the West Virginia School Counselor of the Year, recently made a trip to Washington, DC, as West Virginia's representative to the American School Counselors Association Gala at Union Station. The ASCA provides training and support for counselors all over America. According to a statement on their website, "The American School Counselor Association (ASCA) supports school counselors' efforts to help students focus on academic, career and social/emotional development so they achieve success in school and are prepared to lead fulfilling lives as responsible members of society. ASCA provides professional development, publications and other resources, research and advocacy to school counselors around the globe."
While in DC, Justice visited the U.S. Department of Education where she and the other state counselors of the year heard a speech given by Secretary of Education Miguel Cardona, discussing the mental health challenges students face and the importance of school counselors. She also participated in a round table discussion with representatives of the Office of Special Education, the Office of Postsecondary Education, and the Office of Career, Technical, and Adult Education.
Erin was able to meet and mingle with other exemplary school counselors from every state in the country, as well as some territories. She introduced herself to the gala, as did other entrants, with her personal philosophy of school counseling.
"Being an elementary school kid can be hard," said Justice. "I lighten my student's emotional load and provide them with a safe, judgment-free space. I help students see that learning is vital but also fun and exciting. I want all of my students to leave elementary school with confidence, respect for themselves, and hope for the future."
The Association recognized, in a statement of accolades corresponding to each of the 50 plus participants, that Justice has an incredible commitment to her community, especially off-campus. "After the thousand-year flood experienced in Rainelle in 2016, many home addresses changed to match 911 addresses. 'Suddenly, most of my students no longer knew their personal safety information,' Justice said. 'My mission is for all students to leave elementary school knowing and understanding the importance of their personal safety information. What started as a lesson in safety turned into an opportunity for my students to practice confidence, independence and perseverance.' She is also proud of her advocacy and collaboration efforts with the pediatric department at the town's clinic. After noticing a lot of miscommunication between parents, the school and the clinical staff, Justice contacted the pediatrics staff and started a conversation about their overlapping services and interests. This collaboration helped streamline services and eliminate unnecessary referrals for services that had already been provided. As a result, both worlds understand each other better and communicate more efficiently."
Rainelle Elementary Principal Kim Tincher originally nominated Justice and was excited to learn of the award, stating, "On behalf of our students, faculty, and staff, I congratulate Mrs. Erin Justice for receiving this much-deserved honor. The extra time and effort she has dedicated to our students throughout the COVID-19 pandemic continues to make a real difference in the lives of our students, families, and staff."
These sentiments were echoed by Ashley Spencer, Crichton Elementary Principal, who said, "Erin is such an asset to Crichton Elementary School. She advocates for students' well-being and goes above and beyond to help students reach their full potential. We are so fortunate to have her as our school counselor."
Justice earned an undergraduate degree in Psychology and Sociology at Catawba College in Salisbury, NC, and a master's degree in School Counseling at Winthrop University. She is currently a doctoral candidate at the University of Cumberlands, pursuing a Ph.D. in Counselor Education and Supervision. In her 11th year as a school counselor, Justice has worked for Greenbrier County Schools for eight years and has worked part-time at Rainelle Medical Center as a mental health therapist since 2017. Ms. Justice is a licensed professional counselor (LPC) and supervisor (ALPS), a nationally certified counselor (NCC), and certified in trauma-focused cognitive behavioral therapy (TF-CBT).