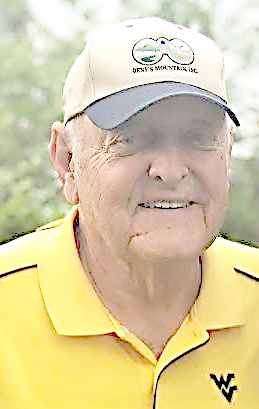 Lewisburg-Eddie Gene "Poppie" Beard, 88, peacefully passed away on Monday, Jan. 3, 2022 at CAMC surrounded by his loving family.
Born on Feb. 6, 1933 in Renick, he was the son of the late Minnie Brown and was a proud member of the Clifton Presbyterian Church in Maxwelton.
Other than his mother, he was preceded in death by his son, Eddie Joe Beard; daughter-in-law, Cheri (Monday) Beard; three sisters, Mattie Brown Sinclair (Ira), Mildred Brown McLean (John R. "Jock"), and Mary "Ruth" Brown Jenkins (Lee).
Special thanks and love for Maggie and Lewis Hollandsworth and the Hollandsworth family, who raised Gene from 18 months on, following his mother's tragic passing.
Survivors include: his wife of 69 years (12/25/1952), Mary Alice (Scott) Beard; daughter, Myola Suzanne Beard; son, Scott Eugene Beard (Stacey); grandchildren: Justin Joe Beard, Alyson DeAnne Riddle (Dain), Kara Jean Holliday (Bryan), Tori JoLayne Nahouse (Christian), Norris Scott Beard, Madeline Anne Beard, Nena Loryn Adwell, and James "Berkley" Adwell; great-grandchildren: Tyler Joe Beard, Raelyn Paige Beard, Jackson Dain Beard Riddle, Abel Thomas Holliday, Reagan Kate Holliday, and Reed Karoline Holliday: special god-daughters: Lana Gail Guthrie (J.W.) and Whitney Whanger Smith; nieces and nephews, Jane Schmidlapp (Alan) and family, Sue Massey (Don) and family, Ann Huskins (Jack), Patty Owens (Archie) and family, Francis Blake (Charlie) and family, Sherry Mullins (Houston) and family, Terry Jeffries, Ira Gene "Butch" Jenkins and family, and Victoria Wilkinson and family, Mary Ann Reynolds (Fred) and family, Vickie Janucik (Lou) and family, James "Jimbo" Scott (Rhonda) and family, Ava Knott (John) and family, Teresa Toribio (Chris) and family, Ellen Marino (Bob) and family. Lastly, dear family friends, Libby Jenkins Kincaid and Colton Lewis.
Gene began his elementary education in Renick, followed by Greenbrier Military School (GMS) and Renick High School. After high school, Gene attended GMS for undergraduate studies before being drafted into the army to serve in the Korean War. After being honorably discharged from the army, he enrolled at Oklahoma City University, earning a double major in Geology and Physical Education. Gene began his career at the McLean Oil Company in the west Texas Oil Fields, where he met lifelong friends Allen Amos and the Pullen family. In Texas, he was highly active in the Menard Little League and Jaycees.
Moving into his life career, Gene served as figure head, innovator, and leader for 30+ years in the fenestration (window and door) industry. As the VP of Sales, he traveled extensively from his home in Greenbrier County to businesses on the west coast and all states in between, where he met some of his closest friends, Warren and Mary Lacey and family, Harry and Carolyn Riegelman and family, Jack and Eileen Steigerwald and family, and Leon and Margaret Slocomb and family. 
After retirement, Gene turned over the family businesses to his son Scott, but remained a mentor and served on the Board of Directors for LaPied, 4-JAKS, MDC Inc., GMB Management and GMB equipment. Gene was also proud member of VFW and NRA and served as a 40+ year board member at Gateway Industries. 
His crown jewel was creating and building his farm, Gene's Mountain Inc., where his family lovingly referred to him as The President and CEO. Gene dedicated 60 years to saving and purchasing small plots of land in northern Greenbrier County, which he cleaned and cleared with the help of family and friends, until he proudly reached approximately 400 acres. "Poppie" would eagerly educate anyone who would listen, on how to live and be self-sufficient. For decades, "The Mountain" has been a place of love and adventures for the Beard family and friends. Gene oversaw many hunting expeditions, sleepovers, family reunions, gatherings, holidays, and most recently a wedding. 
He was a fiercely-loving and caring husband, father, grandfather, great-grandfather, mentor, and friend, whose hugs and kisses could break your bones. Gene had a gregarious personality, never meeting a stranger, and never too shy to tell you his opinion. Gene and Mary Alice were soul mates who met at Renick Elementary. In 1952, the couple married and began traveling the world together, crisscrossing the globe for nearly 70 years together. 
On one of their favorite yearly trips, the traveling partners would pass through Louisiana, stopping to eat at his favorite restaurant where he would feast on Crawfish. After the crawfish stop, the couple would cross into Texas, where they would sometimes stop by "The Deer Lease" with his hunting buddies, "Raesner's Rowdies." After passing through Texas, Gene and Mary Alice would head north to Mary Alice's favorite destination, South Dakota, where they would watch the progress of the Crazy Horse monument. Stubbornness being one of his best qualities, Gene always drove and listened (with minimal interruptions) to his loving wife. There are not enough words to describe Gene Beard and the amazing life he lived. 
We look forward to sharing stories in the near future in a celebration of life which will be determined at a later date.
In lieu of flowers, please make donations to Clifton Presbyterian Church in Gene's honor.
A memorial service is being planned for a later date.
Wallace & Wallace Funeral Home in Lewisburg is in charge of arrangements.
Please send online condolences by visiting www.WallaceandWallaceFH.com