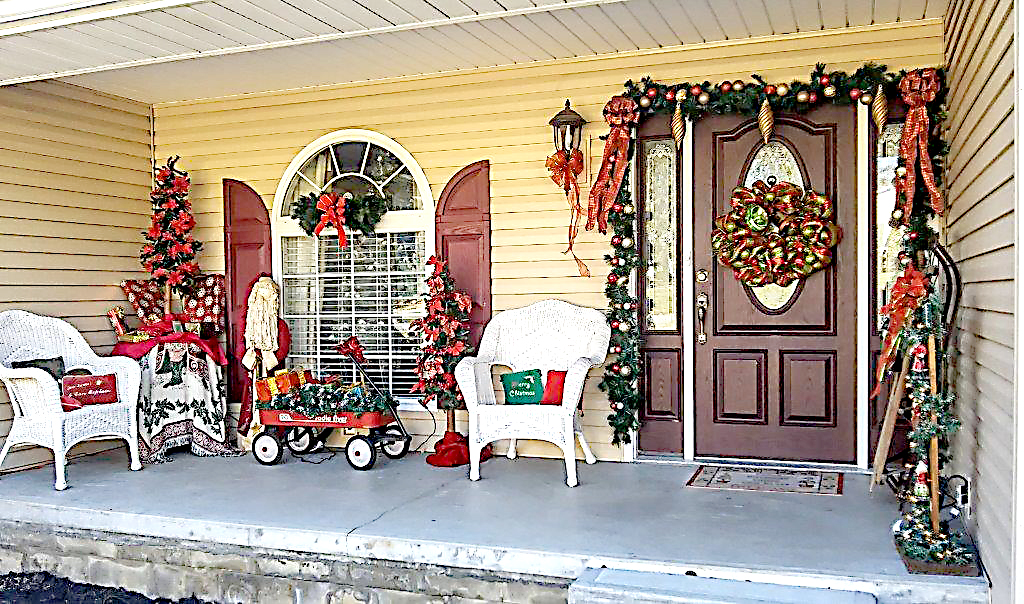 Festive lights were everywhere in Alderson, celebrating the Christmas season. "Driving under the lights" on the Alderson Memorial Bridge over the Greenbrier River is a holiday tradition begun in the early 1950s when the bridge was open to regular traffic.  Now, it is only on specified days for a donation to a nonprofit organization but a beautiful experience just the same.
In recent years, there have been even more lights to enjoy – from Alumni Park and the Historic Business District on the Monroe County side of town, to businesses and homes throughout Alderson. 
To honor the creativity, generosity, and significant effort of residents and businesses displaying the Christmas spirit, Alderson Main Street established a Christmas Decoration Contest in 2016.
This year, Alderson Main Street recognizes the following winners.
Residential:
Old Fashioned Christmas:
1st place: Brandon and Amy Catron
Honorable Mention: Susan and Darrell Hale; Joyce Mott and Phil Mershon; Trudy Halstead
Nativity Scene:
1st place: Becky Wilson
Honorable Mention: Charlie and Betty Mulkey
Children's Fantasy:
1st place: Chase and Samantha Reed
Honorable Mention: Holly and Chuckie Gore; Bobby and Judy Hoover; Shawn and Debbie Dickens
Spirit of Christmas:
1st place: Jeremy Rickard and Stephanie Morgan
Honorable Mention: Karen Lobban; LisaMarie Cropper; Greg Eary
Festive Doorway and Porch:
1st place: Donna and Rick Sims   
Honorable Mention: Jamie Brady and Jessica Wykle
Magical Christmas:
1st place: Rick Honaker
Honorable Mention: Harley & Michelle Adkins
Businesses:
Large business:
1st place: Riverview Motel & Café
Honorable Mention: Wigglesworth Building, Railroad Avenue; Bill Canterbury, corner Railroad Ave & South Monroe Street
Small business:
1st place: Alderson Artisans Gallery
Honorable Mention: Alderson's Store
Alderson Main Street thanks the judges for their hard work in deciding on winners. It was a hard decision to make.