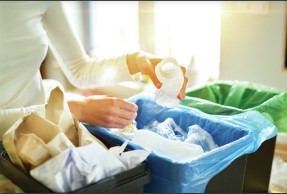 Dear Recycle Lady,
When cleaning out my garage I found several rusty steel cans. Are they still recyclable?
Cleaner Garage
Dear Cleaner Garage,
Yes, rusted cans can be recycled. In fact, that is the best thing to do with rusted metal. When rusty cans are thrown in the trash, they end up in the landfill. Metal does not break down, so it takes decades, and sometimes centuries for it to break down into smaller pieces. Regardless of how small the pieces are, they are never absorbed by the soil as they are not biodegradable or compostable. But they are harmful to the environment and, according to osha.gov, metals may build up in biological systems and become a significant health hazard.
Dear Recycle Lady,
I understand that aerosol cans can be recycled if they are completely empty. What about a can of PAM cooking spray made with olive oil – does the olive oil prevent the can from being recycled?
Happy Chef
Dear Happy Chef,
No, the olive oil in an aerosol can does not prevent the can from being recycled with steel cans. According to earth911.com, aerosol cans are used to store everything from food to bathroom products to paint. Regardless of their content, all of these aerosol cans can be recycled. Because they are made of either aluminum or steel, aerosol cans are a high-value metal for recycling as aluminum and steel can be repeatedly recycled into new products. To recycle an aerosol can, first remove the large cap on the top of the can, which unfortunately, can't be recycled locally. Do not attempt to remove the spray nozzle. Be sure the can is as empty as possible by spraying the contents in a bag or waste can. Never puncture a hole in the can as the can will explode and hurt you. All aerosol cans, both steel and aluminum, are recycled with steel cans. Recycling aerosol cans is safer than throwing them in the trash as the cans can explode unexpectedly when crushed in a landfill.
Dear Recycle Lady,
I have a plastic item that I think is a bottle, but my friend says it is not. Is there a way to determine if an item is a bottle before recycling it?
Is It a Bottle?
Dear Is It a Bottle,
Since the Recycling Center recycles only #1 and #2 plastic bottles and jugs, determining if an item is a bottle is important. There is a very simple test to do this. First of all, check the size of the top of the item. To be a bottle, the top of the item must be smaller than the bottom of the item. However, it doesn't matter whether the bottom is round or square.There is also one more requirement when recycling bottles: they must be at least three inches tall, otherwise they are a problem for the equipment.
Good News: Spectators of the aquatic events in the 2024 Paris Olympics will be sitting on more than 11,000 chairs made from 100 metric tons of repurposed, recycled city plastic collected in recycling bins from around the area. It's part of making it the greenest Olympics yet!
Have questions about recycling, or interesting information about recycling? Send questions or requests to recyclelady@greenbrier-swa.com. Dear Recycle Lady is sponsored jointly by the Greenbrier Recycling Center and Greenworks Recycling.