By Lyra Bordelon
Tourism is one of the largest businesses in the Greenbrier Valley, supported by the Greenbrier County Convention and Visitors Bureau (CVB) and the county-level 3 percent hotel/motel tax. Since the pandemic began, the CVB has hosted several Tourism Talks, looking to keep the public informed about the current state of the industry. The latest was held on Wednesday, April 21.
Although the outlook has not been good since the start of the pandemic, things could soon be looking up. Since the last Tourism Talk, Tourism Commissioner Chelsea Ruby has been promoted, which was celebrated by CVB Executive Director Kara Dense.
"She was recently elevated to the secretary position and tourism was given its own cabinet-level position and department. That's huge," said Dense. "That's huge for our state, that lawmakers are finally seeing how important tourism is to West Virginia. I really give most of that credit to Secretary Ruby, she's really done an amazing job over the past four years and continues to do so."
Now Secretary Ruby explained tourist travel in West Virginia could be higher this year than it was before the pandemic.
"We have seen record breaking levels of consumer-interest," said Ruby. "The state level advertising has been turned to a very small level for almost a year. We kicked it up on about six weeks ago and it's just been fascinating to see that even with decreased advertising, we're seeing record breaking traffic. Our website has seen a 50 percent increase … and I'm comparing to 2019. We're seeing a huge increase in interest in West Virginia and people who want to travel to the Mountain State."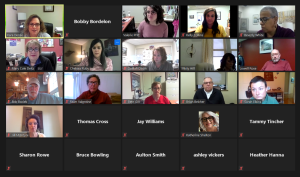 Marketing from the Greenbrier County CVB has also resumed, with Marketing Director Beth Gill explaining, "Our overall goal this year is to capture leads. We want good, qualified leads so we can build connections and visitation. We're working toward making people feel excited about coming to the Greenbrier Valley. We're giving them the personal attention they need."
This involves targeted advertising to people already interested in the area. The CVB and local businesses could also improve their advertising through a state program highlighted by Ruby, the advertising assistance program.
"This is something that both local businesses and the CVB can participate in. It is generally a 50/50 match, so if you buy advertising we will match you dollar for dollar. Because of the pandemic, we have switched that to an 80/20 match. We know that budgets are hard coming out of the last year and we want to make sure that folks are able to advertise to their fullest potential right now."
According to surveys by Longwoods International, back in November and December, only 58 percent of people said they plan to travel in the next six months. Ruby excitedly told listeners that number is back up to 87 percent, "which is where we started at the first week of the pandemic." 
The survey also included a breakdown of what this 87 percent of people want to do:
 – Dine at a restaurant, 57 percent
 – Go to relax or recreate at an ocean, lake, or river, 53 percent
 – Go shopping, 48 percent
 – Visit a national park, state park, or monument, 36 percent
 – Participate in other outdoor activities or adventures, 32 percent
 – Go on a hike or bicycle ride, 31 percent
 – Visit a museum, art gallery, or other art/cultural institution, 22 percent
 – Go to a winery, brewery, or distillery, 19 percent
 – Go to a live musical, cultural, food, or other event, 17 percent
"I read that list to say that you have all of those things," Ruby said. "Your area has all of those things yourself. When [they are] looking for vacation, we should be at the top of their list. Over the past decade, we saw more and more people flocking to big cities to do big city things. [Now], the cultural small town things, and they want to get outside."
She highlighted the efforts of Greenbrier Valley residents for their $1.8 million, grant-winning efforts to restore the Meadow River Rail Trail, and work on the Schoolhouse Hotel in White Sulphur Springs.
"There have been some bumps, but we are working through them and working really hard on the Meadow River Rail Trail," Ruby said. "I think that will be a great asset for you and the area in the coming months. … We're really excited about the Schoolhouse Hotel [in White Sulphur Springs] and a couple of others. We're excited to see all this growth."
Ruby also provided more details on the recently announced remote worker program in Lewisburg, explaining individuals enrolled would get $10,000 the first year, $2,000 the second, and also go free outdoor recreation and coworking space. The program has attracted over 4,000 applicants so far, with over 100,000 unique visits to the project's website in the first three and a half days.
Commissioner Tammy Shiflett Tincher, Commission President Lowell Rose, Lewisburg Mayor Beverly White, White Sulphur Springs Mayor Bruce Bowling, and many, many more Greenbrier Valley residents joined to get more details on the hopeful look forward for tourism in the area.
"I love joining this group," Ruby said. "You all are always such an engaged group and we get a huge mixture. … It's really rare that I jump on these calls and I have representation from the cities, at the mayor's level."