By Lyra Bordelon
It's the time of year, in an unusual year, for the Greenbrier County Convention and Visitor's Bureau to travel to a number of town halls and give its annual report on the state of the tourism industry. This year has marked a rough one for the industry due to the effects of the COVID-19 pandemic.
"We were having a pretty great year until March and I don't have to tell you what happened in March," CVB Executive Director Kara Dense said.
The CVB is funded through 50 percent of the county's 3 percent bed tax on the operations of hotels and motels. The funds then go toward promoting tourism overall – hence the formation of the CVB in the early 2000s.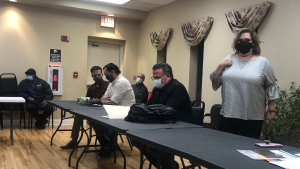 "Our mission is positively impact the economy by promoting this area as a tourism destination. We are funded by the bed tax in Greenbrier County from Lewisburg, Alderson, Ronceverte, and White Sulphur Springs. Our goal is to promote all of the businesses in Greenbrier County, we are not membership based, any tourism business gets a free listing in our guide, they get a free listing on our website and we do all we can to get people here."
With the travel restrictions and transmissibility of COVID-19 as major reasons to stay at home this year, the CVB had to close the visitor's center in downtown Lewisburg and change everything. Many local businesses have managed to change strategies and operate, but overall business has been down throughout the country.
"We immediately had to shift what we were doing. This is the year of flexibility. … We had to take a step back because all any of us had done in our careers in this industry is tell people about our wonderful area. We couldn't do that anymore. We couldn't invite them to come here. We switched gears and started talking to locals as best we could and supporting the businesses that were here."
One appreciated effort during the early pandemic included keeping a running document with each local eatery that had reopened for takeout only, to outdoor seating, and kept their hours easily accessible. This is part of the push for locals to help support the businesses here throughout the year. Dense pointed to another opportunity for local economies could flourish.
"It's really easy for people to just sit on their couch, click on their phone, hit the cart, hit Amazon," Dense said. "It's really easy for people to do that – we really want people to go … get out and spend that money locally. … Of all the years, and I'm the world's biggest Christmas shopping procrastinator, but my goal this year is to get out and buy local as much as I can and do it early."
Although the visitor's center reopened in May, alongside many businesses, some restrictions are still in place. In addition, the boundaries of nature are important to the industry in normal years, but will be especially problematic this year and for the next few years.
"As the weather turns and restaurants aren't able to do outdoor seating, it's going to get tougher," Dense explained. "They don't think the tourism industry will return to normal until 2023. Tourism was hit the worst as far as unemployment. We've got a long way to go. … [The CVB is] trying to do everything we can to get people here safely and responsibly."
Dense recommended local businesses visit the Greenbrier County CVB Facebook page. She explained there are two pages, one for potential tourists (@GbrValleyWV) and one for the CVB's local business partners (@greenbriercountycvb). On the local page, there are resources for local businesses, such as links to the Tourism Talks and partner education sessions.
"We've combined our Tourism Talks with our partner education," Dense said. "We're going to be doing one on October 15 on marketing. Any local business, you don't have to be a tourism business, that has a question about marketing, anything from social media to digital to public relations. We're going to have three experts on our panel. It will be a zoom meeting and it will just be an hour so it won't take too much out of your day. It's at 9 a.m."
As noted in a previous Tourism Talk and by the Greenbrier County Airport Authority, although the outlook for the tourism industry as a whole is bleak, Greenbrier County might be positioned to come out of the run sooner than other locations, especially big cities.
"People want to visit small towns. They want to go where it's safe. … They're looking at our numbers, they're looking to see where are the least amount of cases, what is drivable, what safety protocols, are they wearing masks? … People are traveling. Maybe not as much, they're not taking long trips. This summer The Greenbrier was packed on the weekends."
For more information about the local tourism industry, check out the full CVB annual report, coming as an insert in a future edition of the Mountain Messenger.