By Lyra Bordelon
Readers of WV Living have spoken, nominating organizations and businesses across West Virginia for their annual Best of West Virginia competition. This year, Greenbrier County nominees are fighting to take the gold, despite having serious setbacks to the way they operate due to COVID-19.
The competition allows the magazine's readers to submit which businesses would make the cut. After initial submissions, voting took place, and the finalists were selected.
"WV Living magazine is highlighting the best people, places, and things that West Virginia has to offer," explained the website. "You weighed in and determined our finalists and now you can vote from September 21 to October 11. Vote by clicking the categories below and selecting your favorites from the final ballot. You can vote once per day per category. The winners will be announced in the winter issue of WV Living magazine."
Over 25 local businesses and organizations have been nominated to various prize categories, such as the Best Bookstore and Best Women's Apparel. It would not be the first time organizations in Greenbrier County have been nominated or won – in 2019 the Greenbrier Valley Theatre, Stardust Cafe, Jim's Drive In, The Wild Bean, Smooth Ambler, and more Greenbrier County businesses took the Best of prizes, with more coming in first runner up places. A New Chapter bookstore's owner, David Craddock, looks to dethrone last year's winner, Taylor Books in Charleston.
"Usually Taylor Books wins this cause they're well known, … but we get a lot of people coming down from Charleston that tell us they like our bookstore much, much better," Craddock said. "I think one reason people like our store is that it's spread out, got the high ceilings, plenty of room for people to look around, grab a book, sit, and see what they think of it."
A fellow competitor for the title of Best Independent Bookstore, the Alderson's Store has also been nominated in several other categories, such as Best Antiques/Vintage, and Best Gift Shop.
"We've been known as a unique gift shop for some time and we've really built on that," said Sarah Alderson, general manager of the Alderson's Store. "In recent years we've added more antiques and vintage, so people know us for that, and [I think the book nomination is] because we have such a wide range and good selection of West Virginia books, either about West Virginia or by West Virginia authors. … We've also added to our vintage and antique book collection, so we have a very large collection of West Virginia books that are out of print."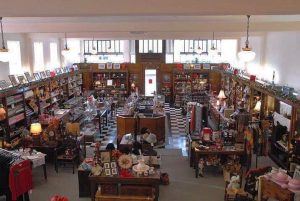 Being nominated in multiple categories, Alderson was pleased to see the idea of what they hope the current store is so reflected in the customer-based nominations.
"For us, the being in such a wide range of categories too shows pretty much what we're trying to be – a modern general store," Alderson said. "To have a wide variety of items available for people and just be a fun place to shop. It shows that people think of us too in various categories which is … what we've worked for some time."
Despite the nominations, the specter of COVID-19 hangs large over what the stores could have seen in terms of sales and customer visits. In March, the Greenbrier County Commission gathered the local Health Department, officials from throughout the county, and emergency responders to a meeting, the preamble to what became the Greater Greenbrier COVID-19 Task Force. During that meeting, executive director of the Greenbrier County Convention and Visitors Bureau, noted that Greenbrier County was having a strong year for tourism until that point.
"Aside from the virus itself, the impact of this could and is going to have on this county's economy is crucial," said Kara Dense, during the March 12 meeting. "It's going to be bad. … It can have just a huge effect on us, so we're going to continue to do our marketing and encourage people to come here. People are still going to want to get away and our hope is that maybe we can get them to come here and enjoy the fresh outdoors and get away from the larger cities."
Cancellations and closures would soon follow the March meeting for many of the county's biggest draws, such as the State Fair of West Virginia. The closures also affected a number of the shops nominated, both currently and previously in the WV Living competition.
"I feel fortunate we've been as busy as we have been given the circumstances and, also, with the restrictions," said Wolf Creek owner Deva Wagner. "We are limited on how many customers we can have in the store at a time … Between cleaning and customers and keeping everything as safe as possible has been challenging because you always worry. What if something were to happen in your establishment? … Given that we were closed for two months and then we opened and were able to get merchandise, for me personally that was an effort, and we've had customers, I feel pretty fortunate for that."
"We actually, before we were shut down, were running 20, 25 percent ahead of the period from last year. [Now, we are doing] as well as can be expected – we are about 85 percent [in sales] of what we were last year, so that's not bad," Craddock said. "We've got really good local support, and there are people who travel from Charleston and Beckley that come up specifically to see us. … I think, assuming we don't shut down again, we're in good shape."
With Governor Jim Justice's reopening guidelines in place, most West Virginians are hoping the case load remains low enough to keep organizations open. However, not all have reopened – The Greenbrier Valley Theatre (GVT), despite its 2019 WV Living win for Best Theatre Company, remains closed for several reasons.
"At this point, the actor's union is still not releasing contracts widely," Cathy Sawyer, producing artistic director for GVT, explained. "There are a couple of things they'll take into consideration before they release contracts, … like the COVID situation in the area, the state percentages, percentages in the county. … We were looking really good for a while but after the jump from almost nothing to whatever we had after that first outbreak [at a church in Ronceverte in July], it didn't look good for us. We're watching the numbers and hoping to get back to work."
In addition, restrictions on group gatherings have preventing the theater from drawing enough income to put on plays. While the theatre's non-COVID seating totals around 130, that number is currently reduced to 25.
"By the time you pay actors, pay royalties, pay staff, cover utilities, all of those kind of things, you've got to sell more than 25 tickets a night. It doesn't even come close to breaking even," Sawyer said.
Even the businesses that were able to reopen after the shut down have found themselves facing new problems to overcome.
"It's definitely challenging," Wagner said. "The stuff I'm getting in right now, I ordered back in January. That was eight months ago and who knew at that time. It was five or six weeks later that we closed for two months, but I had already ordered all my fall stuff. Now that stuff is coming in and it's way differently economically than it was going to be. If we hadn't had this pandemic, we would've had a killer season for summer downtown Lewisburg."
Wagner explained she had been selling spring merchandise over social media at 20 or 30 percent off during the shutdown, trying to keep everything in stock moving.
"I ordered all this stuff and, basically, we skipped right over spring," Wagner explained. "I had no spring season; quarantine had me hold all of my inventory. Business is definitely down, but not as much as you would think given the pandemic."
In addition to the reduced amount of tourism, lost revenue during the shutdown, the cities of Greenbrier County also had to cancel a large number of the parades and celebrations that often serve as local business drivers.
"We had all of these events plans and then, of course you know, no First Friday's, no Chocolate Festival, no Lewisburg Literary Festival, no Taste of Our Town," Craddock said. "Considering all of that has gone away and we're able to do what we're doing now, I'm very optimistic about [the future]."
"We figured we would do what we have to do for this year." Alderson explained. "Really, as soon as the tourism season came, and we lost our Strawberry Festival to COVID, and we lost our Fourth of July celebration, we knew that wipes out the summer. Take this year as a loss. We were hoping things would be much better now for the holidays, but still, we'll do what we can. We'll open anyway we can creatively – by appointment, by social distancing, by having more things online, by Facebook, we will be open to serve the public in new ways for the holidays."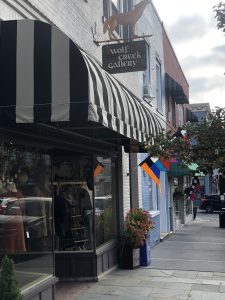 These cancellations have not ended – the shops of downtown Lewisburg are currently attempting to figure out how to navigate the continuing cancellations.
"We have the holiday specials, which are like [Girl's Day Out and] Black Friday, leading up to Christmas, and we can't really do any of that," Wagner said. "We're trying to work with the city right now to figure out what we can do as far as spreading out. [We want to] still make it fun and festive, and wanting people to come, but not huge crowds all at once. … That's our challenge right now, we're trying to figure out what to do about that and how to go about it in a safe way."
Each hoping to win the gold in their respective categories, several of the nominees that spoke to the Mountain Messenger ultimately showed determination to work through the current pandemic and keep Greenbrier County alive.
"It's been difficult for everybody, but we've been here 133 years and we don't intend to go anywhere. It may be hard, but we've essentially been through the [1918 Spanish Flu] pandemic, and the Depression. Our business has been through all these things before," Alderson said with a laugh. "Our generation hasn't, but our business has. So if they could keep going, we're determined we could keep going."
"I've always kind of done it all but now I'm really doing it all," Wagner joked. "Making sure the floor is clean, the bathroom, setting up the website, the windows. It's nonstop. … I've had my store for 25 years. I started right after college. At this point I'm back to square one. In the beginning I worked every day, including Saturdays, usually by myself with maybe one other part time person. I just did it all until I could afford to have other people in here with me. Now I'm kind of back to that again. … I'd like a little more free time, but I'm dealing with it, and I still love it. I love my store, it's my baby, so I want it to survive. I don't think I could have it any other way. … I feel like I need to be here."
"Wear your mask, help us get this thing under control so we can go back to work," Sawyer said. "… We want to be working and we need their help in getting back to work. Wear your mask. Be safe. Consider other people."
Throughout and around the county, a number of businesses and organizations were nominated for WV Living's Best of West Virginia, including A New Chapter, Alderson's Store, Greenbrier Valley Theatre, Wolf Creek, General Lewis Inn, Greenbrier River Campground and Cabins, The Greenbrier, The Salt Cave and Spa, Lost World Caverns, Road Hog's Barbeque, Swift Level Fine Meats, Ben-Ellen Donuts, Jim's Drive In, The Stardust Cafe, Prime 44 West, The French Goat, Amy's Cakes and Cones, Hill and Holler, Greenbrier Valley Brewing Company, Hawk Knob Hard Cider and Mead, Smooth Ambler, Barnwood Living, The Very Thing, Old Victorian Inn, Alderson Artisans Gallery, Fruits of Labor Cafe. In addition, Lewisburg, Alderson, and White Sulphur Springs as cities are up for several different categories, including Best Mayor for Lewisburg's Beverly White.
In order to vote for your favorite local business, visit https://wvliving.com/best-of-west-virginia-2020/. Supporting local businesses remains important to the health of local economies, with the ever growing presence of online retail. In order to keep them around, support is needed.
"Our small, local businesses are struggling right now," Wagner said. "If people can keep us in mind during the holidays and try to spend their dollars locally rather than online that would be awesome, that would be helpful to all of us. We're here to help too; we're all in this together, because a lot of us are expanding on what we offer so we can be there for our customers in different ways.