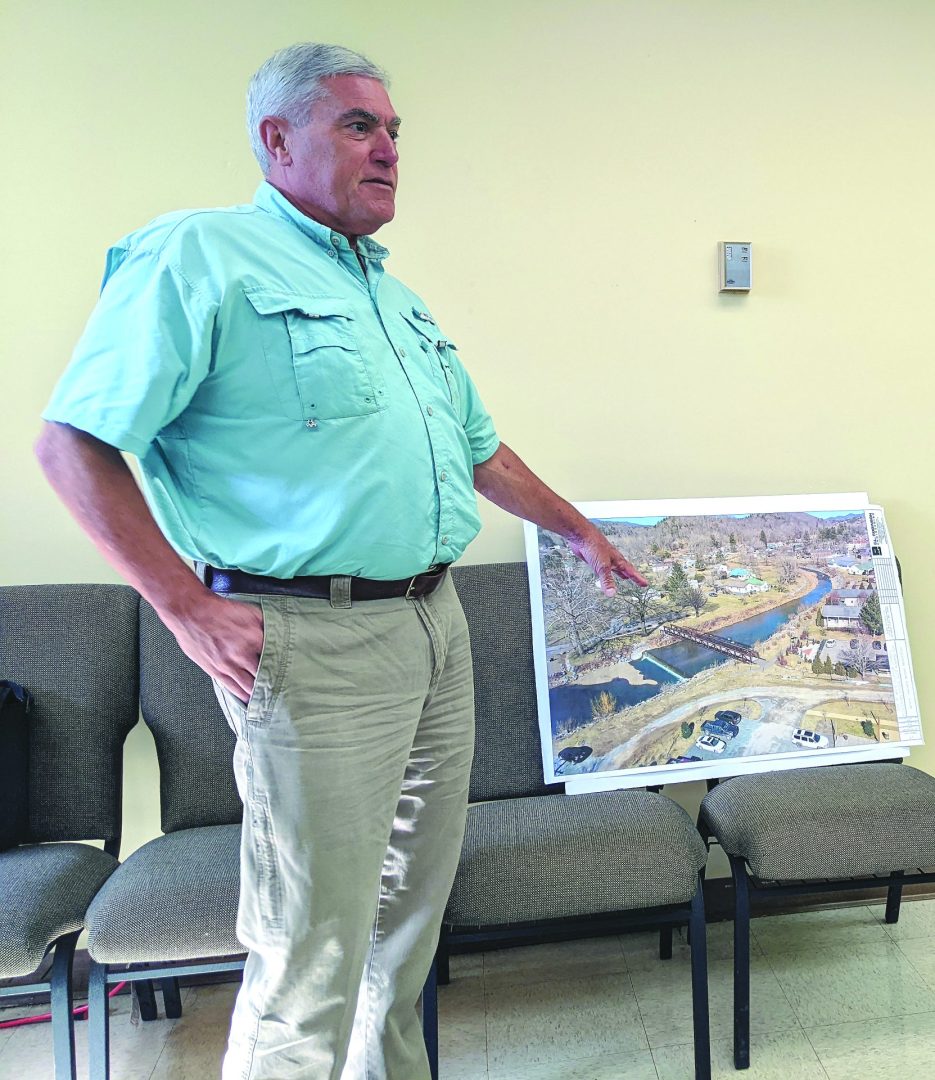 By Sarah Richardson
A number of community members attended this week's White Sulphur City Council meeting to voice their thoughts on the proposed location of a new pedestrian bridge downtown. The bridge, which will cross over Howard's Creek to a city-owned plot of land, will expand accessible parking for the town and will be located behind the Veteran's Memorial. 
White Sulphur Springs resident and veteran Bobby White spoke in opposition to the location of the bridge. "First of all, I want to say that I am not against the footbridge, I am against the location." He asked members of Council to "revisit and rethink" the project's location, as he noted concerns with increased walking traffic being located near the memorial, and requested it be located downstream another 40 feet. "If the bridge is a go for the city, then I am asking the city to seriously think about relocating downstream" he said. 
Janene Kaufman said the chains around the memorial could be a "hazard," and said kids could hurt themselves if they try to play on it. 
"The memorial is a sacred place that needs protected at all costs," said resident James Quick. "I realize that if we put it on down the river we will still have people linger back that way, but if you direct traffic coming off that bridge if they get started going that way you're going to have problems with vandalism, these young people. That memorial is just people to worship and talk to their loved ones that gave their life, and I think it ought to be rethought."
Mayor Bruce Bowling explained that the bridge was moved from its original proposed location of 40 feet downstream due to the location of a sewer line. This is why it was shifted over to behind the Veteran's Memorial. 
"Personally, I was up there today, and I don't really think it's that close. That's just my opinion," said Bowling. 
Two White Sulphur residents took the stand in support of the bridge, Anne Tuckwiller speaking on behalf of Tom Crabtree who was unable to attend, and local business owner Clay Elkins. They both said this bridge will increase connectivity between public areas around town, including the parks, and will provide a safer route for bicyclists. 
Later in the week Mayor Bowling attended a Greenbrier County Commission meeting as White Sulphur requested a contribution from funds in the Greenbrier County TIF District in support of the project. An amount of $180,350 was approved by the Commission to match a grant from the West Virginia Division of Highways in the amount of $1,025,400.