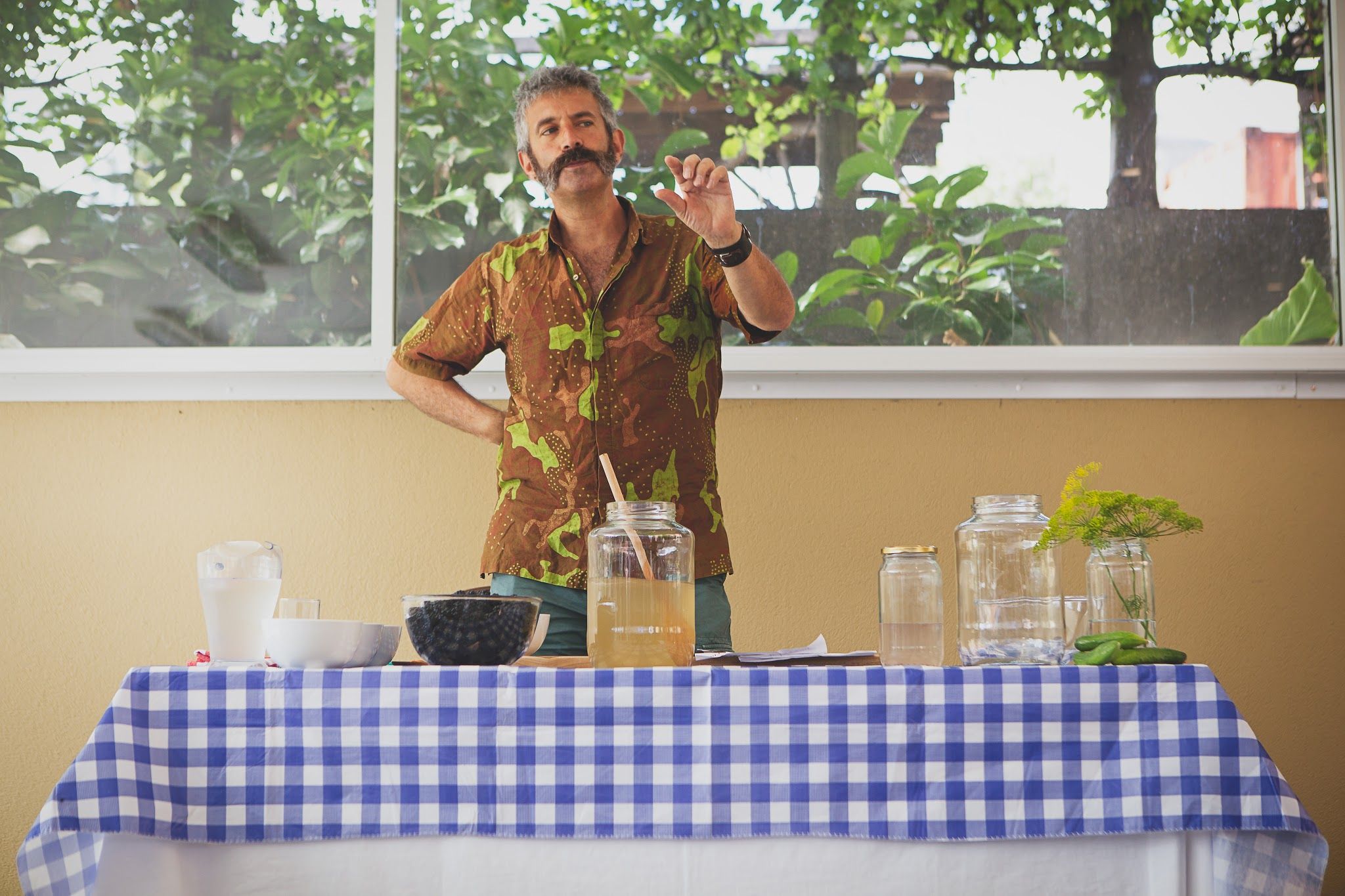 As part of Carnegie Hall's Appalachian Heritage Lecture Series, Carnegie Hall presents Fermentation from Appalachia and Around the World with Sandor Katz on Friday, May 26, at 7:30 p.m. Sandor Katz is a fermentation revivalist, author of five books, and recipient of a James Beard award and other honors.
Sandor Katz's interest in fermentation grew out of his overlapping interests in cooking, nutrition, and gardening. It started with sauerkraut. He found an old crock buried in his barn, harvested cabbage from the garden, chopped it up, salted it, and waited. To him that first kraut tasted "so alive and powerfully nutritious!" Its sharp flavor sent his "salivary glands into a frenzy" and he became hooked on fermentation. He has made sauerkraut ever since, earning the nickname Sandorkraut, even as his repertoire has expanded. Katz has explored and experimented widely in the realm of fermentation, and his mission is to share information and resources, to encourage home fermentation experimentalists and propel more live-culture foods out into our culture.
Sandor Katz is a native of New York City and a graduate of Brown University. In 1993, he moved from NYC to Cannon County, Tennessee, where he became a part of a vibrant extended community of queer folks (and many other friends and allies). He has AIDS and considers fermented foods to be an important part of his healing.
Since 2003 when his book Wild Fermentation was published, he has taught hundreds of workshops demystifying fermentation and empowering people to reclaim this important transformational process in their kitchens.
The New York Times calls him "one of the unlikely rock stars of the American food scene." His second book, The Art of Fermentation (2012), received a James Beard award and was a finalist at the International Association of Culinary Professionals. The Southern Foodways Alliance honored him with their Craig Claiborne Lifetime Achievement Award.
He has presented workshops in most of the states of the U.S., as well as Mexico, Canada, Argentina, Brazil, Costa Rica, Colombia, Ecuador, Belgium, Denmark, England, Greece, Ireland, Italy, Netherlands, Northern Ireland, Norway, Poland, Scotland, Sweden, Australia, New Zealand, Indonesia, India, Hong Kong, and Japan. Venues have included universities, museums, libraries, farms, farmers' markets, conferences, bookstores, festivals, and community spaces.
Doors to the Hamilton Auditorium will open at 6:30 p.m. A New Chapter now has selected works by Sandor Katz available at its location (922 Washington Street East, Lewisburg)
In addition to the lecture, a workshop to learn how to Make Sauerkraut with Sandor Katz will take place on Saturday, May 27, from 9 a.m. to 12 noon. This hands-on opportunity teaches students to make their own sauerkraut. Easy to prepare and easy to customize, sauerkraut is not only delicious but very beneficial. Students will assemble their raw product in class and leave with a jar of ready to ferment kraut that can be enjoyed in just a few weeks. A selection of fermented foods will be available to taste during the workshop. Class size is limited so it is recommended to register early. The cost for the class is $60 for members ($65 for nonmembers). Students must be at least 16 years old.
Tickets to the lecture are $20. To purchase tickets or register for the workshop, call Carnegie Hall Box Office at 304-645-7917, visit www.carnegiehallwv.org, or stop by at 611 Church Street, Lewisburg. Carnegie Hall Box Office is open Monday through Friday, 10 a.m. until 4 p.m.