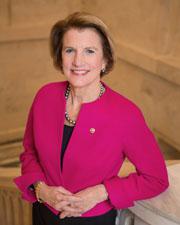 U.S. Senator Shelley Moore Capito (R-W.Va.), Senate Vice Chair of the National Service Congressional Caucus, recently released a resolution in celebration of AmeriCorps Week to honor the invaluable contributions of AmeriCorps members and alumni.
"Just recently, I was proud to meet AmeriCorps volunteers at Grow Ohio Valley and at Wheeling Heritage. Whether helping grow and develop our Heritage Areas or reading to kids through the Energy Express program, AmeriCorps volunteers put in time and effort to make real, lasting impacts on lives in communities across West Virginia," Senator Capito said. "I am proud to join my colleagues in leading this effort to celebrate the good work AmeriCorps does to serve others and improve the lives of so many."
Every year, AmeriCorps enrolls more than 200,000 individuals who currently serve in 40,000 communities across America, totaling more than 1 million alumni since the program's founding in 1994. The National Service Congressional Caucus celebrates the contributions of AmeriCorps members and alumni and AmeriCorps Seniors volunteers across the country.
AmeriCorps, by the numbers:
• More than 200,000 members and volunteers in organizations dedicated to strengthening their communities.
• 9,500 public, private, and charter schools supported by AmeriCorps tutors and mentors.
• Nearly 245,000 veterans and military families connected to education opportunities, jobs, and the benefits they have earned.
• 100,000 individuals assisted with job training and work placement programs annually.
• 365,000 elderly Americans provided with independent living services annually.