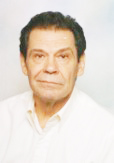 Bobby Gene Myers
Frankford-Bobby Gene Myers, 82, passed away Thursday, Dec. 22, 2022, at Greenbrier Valley Medical Center in Ronceverte.
He was born Feb. 10, 1940, in Ronceverte, the son of the late Robert "Tuck" and Mary Hunter Myers.
Bobby was a member of St. James Episcopal Church in Lewisburg. He was a member of Lewisburg Elks Lodge, the Elks National Foundation, Past Exalted Ruler of the Lewisburg Elks Lodge, past Deputy District Grand Exalted Ruler for Southern WV, an active volunteer for the handicap children at the Elks Summer Camp in Bluefield and a former member of the Ronceverte Fire Department.
Other than his parents he was preceded in death by his son, Tony Myers.
Surviving are his wife, Sally Tincher Myers; daughter Michelle Vance (Jeff) of White Sulphur Springs; stepdaughters; Patricia Ballengee and Laura Ballengee of Hampton, VA; stepsons, Richard Ballengee (Stephanie) of Virginia Beach and Kevin Ballengee of Hampton, VA; grandchildren, Leah Vance-Berg (Levi) Ashley Sanders (Kris) and Andrew Vance; great-grandchildren, Allie Sanders, Kolby Sanders and Henry Berg; step-grandchildren, Justin, Eryn, Ryan, Nicole and Lee Ballengee; and several step-great-grandchildren.
Funeral services for Mr. Myers were held Thursday, Dec. 29, at the Wallace & Wallace Funeral Home in Lewisburg where Fr. Joseph Lutz officiated with interment to follow at Greenbrier Memorial Gardens in Lewisburg. The family received family and friends prior to the service at the funeral home.
In lieu of flowers, the family suggests donations of sympathy be made to St. James Episcopal Church, 468 Church Street, Lewisburg, WV 24901.
Online condolences may be sent by visiting www.WallaceandWallaceFH.com