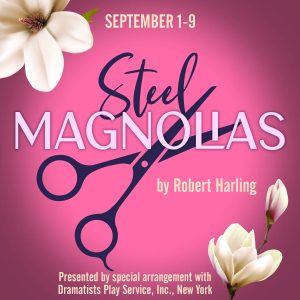 Many will know Robert Harling's classic Steel Magnolias because of the film starring Dolly Parton, Sally Field, and Julia Roberts. What you may not know is that the film, released in 1989, is actually an adaptation of Harling's play that came out two years earlier. Written to honor his late sister, Steel Magnolias explores the day-to-day life of six women as they spend their time talking and laughing while getting their hair styled.
The production of this popular title will open at Greenbrier Valley Theatre (GVT) in September with some familiar faces. Erin Jerozal (I Love You, You're Perfect, Now Change) will lead the cast as salon owner, Truvy. Wendye Clarendon, Amy Loui, (Silent Sky) Emily Bosco, (Pride and Prejudice) Kelsey Hofe, and mainstay Cathey Sawyer will complete the group of women who will prove that relationships can be as strong as steel.
Dana Iannuzzi (Murder for Two) returns to Greenbrier Valley Theatre to direct the production. Iannuzzi believes that art is not only about creating a dramatic point, but also about showing life as it actually is. She believes this is the beauty that comes with Harling's writing and is looking forward to capturing those moments on stage.
"Far too often we get caught up in the extraordinary days and neglect the small moments that encapsulate who we are as people," said Iannuzzi. "Love. Friendship. Grief. Happiness. Life. Sadness. This is what it is to be human."
The production will feature scenic design completed by Frank Ludwig, costume design by Jenna Fawn Brown, and lighting design by E. Tonry Lathroum. Sound design is completed by Abigail Coppock, with prop design by Ashton Webb.Richard Crowell serves as Production Manager, Elizabeth Salisch as Production Stage Manager, who will be assisted by Mallory Topel.
Now in its 56th season, Greenbrier Valley Theatre, is a mainstay and theatre destination located in Lewisburg. The arts organization has been further recognized as a "West Virginia Jewel of the Hills," awarded the Living the Dream Service Organization Honor Roll by The Martin Luther King, Jr. Holiday Commission, and is a multi-year recipient of Non-Profit Business of the Year. GVT boasts a robust series of year-round programing and educational offers with the goal to enlighten, enrich, and enliven throughout the region.
Steel Magnolias opens at GVT on Sept. 1 and runs through the Sept. 9. Tickets are $32 for general seating, $29 for senior citizens age 60 and above, and $20 for students. For more information on tickets, shows, and the organization's history, visit the theatre's website: www.gvtheatre.org or call the box office at 304-645-3838.