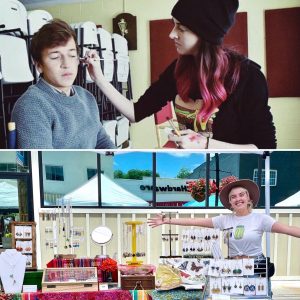 Mickayla Pence is ambitious, tenacious, and determined to succeed as a prosperous artist in West Virginia by pushing boundaries and changing mindsets. She is also a 2023 Tamarack Foundation for the Arts Creative Entrepreneur Fellow.
Pence, 34, makes one-of-a-kind, mixed media jewelry and wearable art using a combination of precious metals, gemstones, butterfly wings, magazine and photo clippings, feathers, and pressed flowers she collects in the woods of Greenbrier County, where generations of her family have lived and worked.
Pence incorporates nature, texture, shape, color, humor, mental health, and social justice into her work, and is influenced by the beauty found in nature, eclectic fashion, feminism, pop culture, and uninhibited self-expression.
"In an anxiety provoking world, every time I sit down at my work bench, the worries that have plagued my soul, suddenly quiet," she says. "I find the most solace when I am in the midst of creating art."
As her skill set broadens, her style and expression have become more eclectic.
"I am always looking for ways to push boundaries as an artist," she says. "Recently, I have been focusing more on larger ornate works with asymmetrical balance influenced by couture fashion runways and editorial photo shoots as well as conceptualized symbolic social justice pieces."
The Tamarack Foundation for the Arts 2023 Creative Entrepreneur Fellowship is a game-changer for her. She is using the fellowship to advance her metal-smithing and marketing skills, buy tools and materials, and explore creating more gallery worthy pieces. She is also connecting with other talented artists across the Mountain State and throughout the country, and exposing her work to new audiences.
Pence grew up in northwest Ohio, but moved with her family in her sophomore year of high school to Greenbrier County. "It was huge," she says of the adjustment from her circle of childhood friends to a new school filled with strangers. "At the time I was a bit rebellious about the move, but it turned out to be in tandem with my personal development and character arc. I found that I connected with people in new ways. My new peers were artists, who influenced my imagination differently than my friend dynamic in Ohio."
Her love of art was something she developed early in life from her grandmother in Greenbrier County, Maxine Mann, who was a painter, primarily as a hobbyist but she also painted public murals at the Greenbrier Valley Airport and a local grocery.
Pence now tends to and lives in her late grandmother's home, creating art in her home studio where, as a child, she was first encouraged by her grandmother to "get creative and make a mess. She allowed us to experiment and play, and it was OK to have whoopsies. She was super encouraging."
After earning her Bachelor of Fine Arts degree from Marshall University in 2011, Pence left West Virginia for New York City to work as a freelance graphic designer.
While the Big Apple was exciting and energetic, she said, the grueling grind "sucks you dry. It takes that spirit out of you. I often say there were days in New York when I felt like I was on top of the world succeeding and others where I felt like I was in the trenches of the ruthless rat race. The trope of being surrounded by millions of people, yet still feeling alone became an inescapable reality I endured."
Yearning to create something beautiful with her hands, she searched for new opportunities, and on a whim, went to an open casting call for Warner Bros.'s "Run All Night" starring Liam Neeson. She landed a role as a background actor. While on set, she was captivated by the makeup artists and the magic they create, so she enrolled at the Make Up For Ever Academy NY, where she graduated top of her class in 2014.
With hard work, determination and growing skill sets, she earned extraordinary opportunities to travel the world for nearly a decade, applying makeup on A-list celebrities, and on fortune 500 commercial shoots. She was able to maintain this rise in her career even after moving back home to West Virginia in 2017. Then the Covid-19 pandemic hit, and most of her scheduled work was canceled as the entire film industry shut down. While worrying about how she was going to support herself, she found peace in her new, less-hectic schedule.
"Instead of hopelessly twiddling my thumbs, I began to bend wire with them," she says. "This shift back to my roots and the breathtaking wonders of the Appalachian Mountains provided the inspiration I needed to transition my pandemic hobby of jewelry-making into a blossoming career."
In February of 2022, she registered her company, Mick's Media Jewelry, as a Limited Liability Corporation (LLC) in West Virginia, calling it "one of the most fulfilling endeavors I have accomplished in my journey thus far. With this, I have gained more recognition with new and returning admirers of my work with unfaltering encouragement from my community to continue pursuing my craft as a jeweler."
As a small business owner and artist, Pence pushed herself to persevere, using her lifelong love of learning, patience, and self-reflection to move forward.
"To me, the sky is the limit and my drive to create is infinite," she says. "I seek to be different, non-conforming, and push boundaries as an artist."
Like many West Virginia artists, though, Pence said she is challenged by limited resources and a scarcity of reputable galleries and museums in a rural state where art is often undervalued and its population predominately underprivileged. The closest art supply store is 50 miles from her home, forcing her to shop online and pay expensive shipping costs, while still traveling outside the state to work her "bread-and-butter" jobs as a makeup artist to support herself.
Pence envisions a time when West Virginia artists don't have to leave the state to earn a living. The key, she said, is to reshape the mindset about the importance of the arts in influencing nearly every aspect of our lives, not just in galleries and museums, but in the way we think about the people who design everyday conveniences such as cars, appliances, technology and community centers.
She aspires to have her work displayed in galleries across the country, and on the big screen, high fashion runways, and editorial photo-shoots.
"My ambition and self-motivation are the qualities that have accelerated my career as an artist for many years now," she says. "My momentum is unyielding."