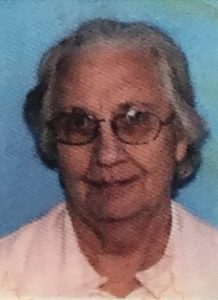 Bertha Erma Adkins Kirby
Pickaway-Bertha Erma Adkins Kirby, 82, formerly of Alderson, passed away Monday, Sept. 4, 2023 at CAMC Greenbrier Valley Medical Center in Fairlea following a short illness.
Born Feb. 9, 1941 at Meadow Bridge, she was the daughter of the late Herbert Wilson and Willie Snow Bragg Adkins.
In addition to her parents, she was preceded in death by her husband, James Franklin Kirby, Sr.; son, Jesse Kirby; brother, Luther Adkins; and sister, Sadie Adkins.
Mrs. Kirby was a retired certified nursing assistant having worked at Summers County Continuous Care at Hilldale.  She was also the co-owner and operator of several businesses in Alderson over the years. She attended the Bellview School at Wolf Creek, WV, and was a member of the Broad Run Baptist Church at Wolf Creek. Mrs. Kirby enjoyed bowling, playing cards, reading, and coloring, but above all, she loved to spend time with her family. She was a wonderful mother, grandmother, and great-grandmother.
Survivors include one son, James Franklin Kirby, Jr. and wife, Candi, of Alderson; two daughters, Bertha Erma Mann of Pickaway, and Barbara Ellen Persinger and husband, Jack, of Sinks Grove; two brothers, Raymond E. Adkins and wife, Ann, of Liberty, MO, and James J. Adkins and wife, Myrna, of Alderson; six grandchildren, Misty Kirby, Jamie Barb, Briton Kirby, Chase Kirby, Paige Persinger, and Jessica Carver; nine great-grandchildren, Cheyenne Barb, Cherokee Barb, Chevelle Barb, Lucious Barb, Jasper Persinger, Amilah Carver, Bradley Carver, Ciara Harmon, and Brianna Deskins; and several nieces and nephews.
Funeral services will be held Sunday, Sept. 10, at 3 p.m. at the Lobban Funeral Home Chapel in Alderson with Pastor Anthony Carter officiating. Burial will follow in the Fletcher Addition of the Alderson Cemetery at Alderson.  Friends may call Sunday, Sept. 10, 2023 from 1 to 3 p.m. at the Lobban Funeral Home in Alderson.
Family and friends will serve as pallbearers.
Online condolences and memories may be shared with the Kirby family at www.lobbanfh.com.
Arrangements by Lobban Funeral Home, Alderson, WV.