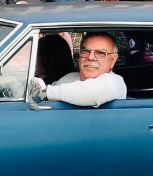 Lewisburg-Bernard Lee "Bernie" Simmons, 65, passed away Thursday, Nov. 9, 2023, at his home surrounded by his family.
Born Oct. 1, 1958, in Lewisburg, he was the son of the late Robert Lee and Margaret Geneve McClung Simmons.
Bernie was a 1977 Graduate of Greenbrier East High School and was retired from the WV Office of Technology after 36 years of service.  Bernie loved gardening and cooking. He operated the Hook and Ladder Grill and Firehouse Diner at the State Fair of WV for many years. Bernie joined the Lewisburg Fire Department on Dec. 4, 1976. He was the only member of the department that served as a dedicated Engineer and had a wealth of knowledge when it came to operating the department's apparatuses. Bernie served in many different roles within the department including Assistant Chief. He was a member of the department's Hazardous Material Decontamination Team and was certified as Fire Officer 2 and was also a Certified Fire Instructor 2 through the WV Public Service Training.
Bernie is survived by his loving wife, Karen Willis; stepdaughter, Tia Willis; mother-in-law, Marie Loudermilk; brother, Garland Simmons (Atik); nephews, Stephen Simmons (Melanie), Eric Simmons and Kevin Simmons (Amber); niece, Staci Jordan (Abraham); and many extended family and friends.
Funeral service was held on Tuesday, Nov. 14, at the Rhema Christian Center, 3584 Davis Stuart Road, Lewisburg, where Pastor Mike Teubert officiated. Visitation was on Monday evening, Nov. 13, at the Rhema Christian Center. Burial followed the service in the Henning Church of God Cemetery, Maxwelton, WV.
Online guestbook may be signed at www.morganfh.net. Arrangements by Morgan Funeral Home, Lewisburg, WV.