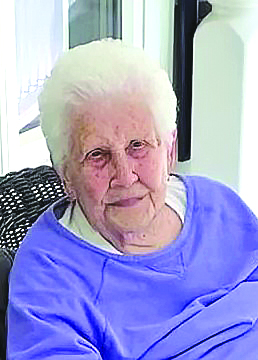 Frankford-Alice Grey Yates, 92, passed away into the arms of her Lord and Savior on Wednesday, Sept. 14, 2022, at Stonerise in Lewisburg.
Born in Vago, WV, on Jan. 8, 1930, she was the daughter of the late John T. and Flora Mae Yates.
Alice went to the Charity Schoolhouse in Frankford, worked at Greenbrier State Forest as a cabin attendant for several years, and was a homemaker. 
She was a devout Christian and faithfully attended church, Sunday School, and church functions until her health prevented her attendance in later years. Alice was a faithful member of Bethel Church in Vago. She had a tremendous capacity for loving others and was a kind and gentle lady who loved Jesus. Alice enjoyed reading her Bible, traveling, laughing, spending time with family, and loved animals and the State Fair. She was a prayer warrior and was a loving wife, mother, grandmother, sister, aunt, and was a sweet friend to all who knew her.
In addition to her parents, Alice was preceded in death by her husband, Mason A. "Bob" Yates, leaving her widowed at the age of 51. She was also preceded in death by infant twin granddaughters and a brother, William T. Yates.
Alice is survived by her three daughters, Sylvia (Joe) Johnson of Frankford, Marlene (Butch) Holdren of Vinton, VA and Karen (Sonny) Phillips of Frankford; two grandchildren, Lara (Casey) Crane of Aiken, SC and Jerry Rogers, Jr. of Hines; great-granddaughters, Avery Alice Crane and Emerson "Emmy" Crane of Aiken, SC, and Katelyn Rogers of Rainelle; sister, Anna Mae Pitsenbarger of Frankford;  three nieces whom she loved dearly and considered daughters, Carol Hurt of West Columbia, SC, Sharon (Joe) Harrison of Renick and Terri Pitsenbarger of Lewisburg.
Services were held on Sunday, Sept. 18, at Wallace and Wallace Funeral Home in Lewisburg where Pastor Everette (Hat) Defibaugh officiated. Interment followed at the Lewis Chapel Cemetery on Vago Road, Frankford. 
The family received their family and friends on Sunday at the funeral home before the services.
In lieu of flowers, donations may be made in memory of Alice to the Greenbrier County Humane Society or to St. Jude Children's Research Hospital.
Please send online condolences by visiting www.WallaceandWallaceFH.com