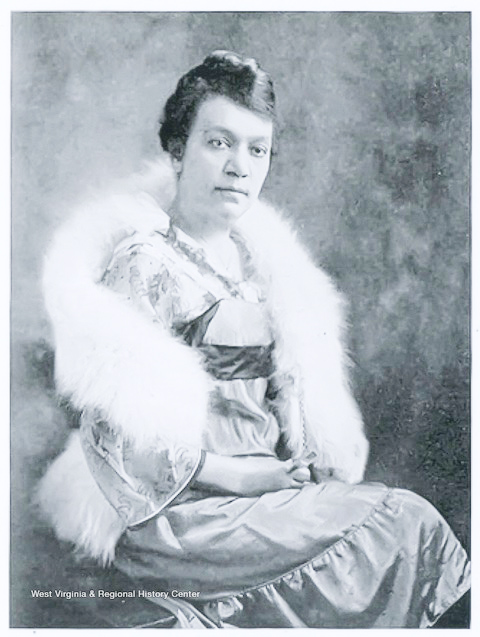 By William "Skip" Deegans
Coralie Franklin Cook (pictured) was born in Lexington, Virginia, in 1861 to enslaved parents, Albert and Mary Elizabeth Edmondson Franklin. Cook was a descendant of Thomas Jefferson's slave, Elizabeth Hemings. She graduated from Storer College in Harpers Ferry, West Virginia, and attended Boston's Emerson College. It is thought that she was the first descendent of Monticello slaves to graduate from college. Following graduation, she taught English and elocution at Storer. She moved to Washington, DC, to become a professor at Howard University and the Washington Conservatory of Music. In 1898, she married George William Cook, a professor and later dean at Howard. George Cook escaped from slavery, attended school and graduated from Howard with undergraduate and law degrees.
Coralie Cook, a skilled public speaker, was active in the civil rights movement, was one of the founders of the National Association of Colored Women Clubs, and was the second woman of color to be appointed to the Washington, DC, Board of Education. She was also active in the women's suffrage movement. She is quoted as stating, "Disfranchisement (sic) because of sex is curiously like disfranchisement because of color. It cripples the individual, it handicaps progress, it sets a limitation upon the mental and spiritual development." She died in 1942.
Storer College grew from a Freewill Baptist mission school founded after the Civil War to educate formerly enslaved children to West Virginia's first college for students of color. Storer was the site of the Niagara Movement conference that led to the founding of the NAACP. At its outset, the college was not well received by some residents of Harpers Ferry. At one point, faculty and students armed themselves in light of threats by the Ku Klux Klan.  The college helped African-Americans, including Coralie Cook, purchased houses in Harper's Ferry. Her house still stands and is included in the Harper's Ferry Black Heritage Walking Tour. Storer closed in 1955 after nearly 90 years of operation.
Photo courtesy of the West Virginia University Regional History Center.
Sources: www.monticello.org, National Park Service, Harper's Ferry-Bolivar Historic Town Foundation.