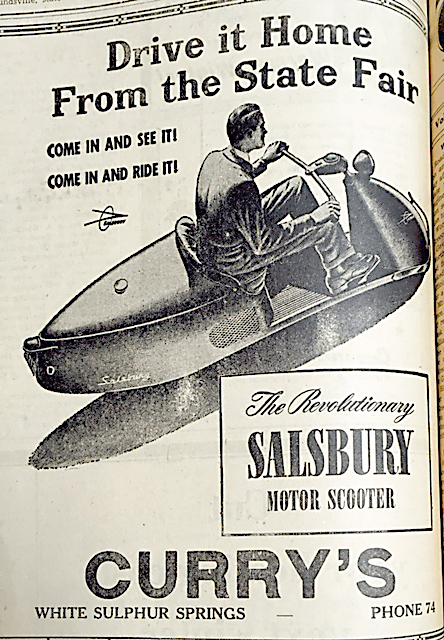 By William "Skip" Deegans
At the 1947 West Virginia State Fair, Curry's sporting goods store in White Sulphur Springs displayed a revolutionary new motor scooter – the Salisbury Model 85. In 1935, E. Foster Salisbury, a California businessman,  was inspired to build a motor scooter after watching the famed aviator, Amelia Earhart,  ride around the Burbank airport in a small two-wheeled motorped. It was during the Great Depression, and Foster thought he could build an affordable vehicle. 
Salisbury engaged Austin Elmore as his inventor. Elmore's initial design, the Motor Glide, was introduced in 1936, and it became the first commercial motor scooter (beating Vespa by several years). Several models were produced before the aerodynamically designed Model 85 was introduced in 1947. It was especially made to appeal to women. It had a step-through frame so women could drive wearing a skirt. The body covered the engine and wheels to prevent the driver from getting dirty. In the tail there was enough room for a spare tire and luggage. With a 6 horsepower engine, the Model 85 could reach a top speed of about 50 mph. It retailed for $800.
Less than 1,000 Model 85s were made from 1947-1950. When the country emerged from the depression and cars became more readily obtainable, the demand for scooters fell, and Salisbury went under. The Model 85 is highly collectable today and can sell for as much as $10,000. 
Advertisement courtesy of the West Virginia Daily News.
Sources: Lane Motor Museum, National Motorcycle Museum, Salisburyscooterscrapbooks.com