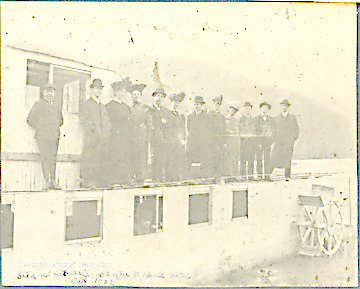 By William "Skip" Deegans
New River hardly comes to mind when one thinks of the era of steamboats in West Virginia. However, as shown in this week's photo from the late 1800s, the New had a steamboat. In fact, there were two.  
After the government dredged the river above Hinton, local entrepreneurs got the idea of using steamboats to carry produce and tobacco from farms and take materials and supplies to farmers. Shown in the photo is the "Cecilia." It was launched from Hinton on November 7, 1878, as all of Hinton turned out to watch. The side-wheeler was 120 ft. long and 20 ft. wide. It had a 124 ft. boiler that carried 175 lbs. of steam. F. M. Starbuck, an expert Hinton machinist who owned a machine shop and foundry, built the boat. It was named for Mrs. Cecilia Miller, wife of C&O locomotive engineer, William Miller, either because he was the first to suggest the idea of a steamboat or paid $100 for the naming right.
Piloted by Jim Johnson, an African-American, the Cecilia could travel only as far upriver as Bull Falls. Steamboats proved to be too large for the New and also unable to navigate the Greenbrier River as hoped. The Cecilia was quickly abandoned. As late as 1933, her hull was still visible along the Hinton shore. The next effort for motorized travel on the New was to equip a 40 ft. beateau (flat bottom wooden boat) with an airplane engine. Since construction of the Bluestone Dam in 1949, New River is no longer navigable from the town of Hinton to Bull Falls.
Photo: Courtesy of the West Virginia Regional History Center.
Sources: Hinton Daily News and Hinton Independent-Herald.