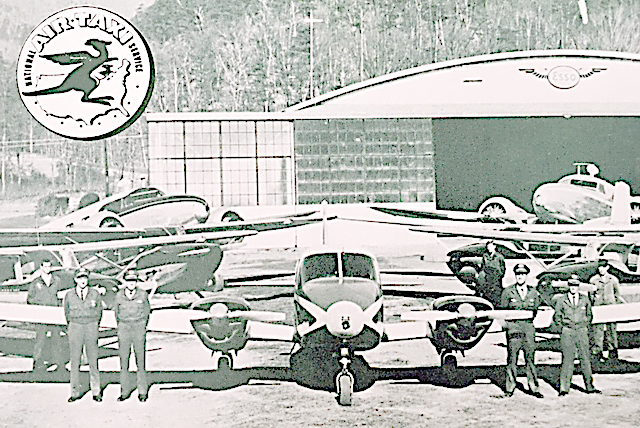 By William "Skip" Deegans
This week's photo of the pilots and fleet of Greenbrier Airlines was taken in the late 1950s or early 1960s. In 1929, The Greenbrier Hotel built an airport between Lewisburg and White Sulphur Springs. Ten years later two young Huntington aviators, Oscar Tate and Carlton Clark, started the Tate-Clark Flying Service with a 38-horsepower Piper Cub and a 5-place bi-plane. In addition to flying guests to and from The Greenbrier Hotel, the two pilots operated a government sponsored flight training program for students at Greenbrier Military School. Tate brought his young wife, Juanita Argenbright Tate, and settled in White Sulphur Springs.
World War II and the attack at Pearl Harbor upended the flying business when ownership of the airport was transferred to the U. S. Army, and the military took over The Greenbrier Hotel. Tate left to become a pilot for Trans World Airlines and later the Army Air Transport Command. After the war, the airport became property of the town of White Sulphur Springs, and Tate returned to Greenbrier County. He leased the airport and founded Greenbrier Airlines. By 1952, the flying service had 12 planes, including two that were used for a flying school. Transporting hotel guests from Roanoke and Charleston airports made up the bulk of the service's business. 
In 1969, the service celebrated its 30th anniversary and proclaimed it had carried 100,000 passengers and had flown an estimated 11 million miles. Among the pilots employed by the airlines were Tate's son, Charles O. Tate III, and his son-in-law, John Wade Bell III. 
The Greenbrier Valley Airport at Maxwelton was constructed in 1968-1969 and provided the area with a 6,000 ft. runway – the longest in West Virginia. The Greenbrier Airport, with a runway of about 4,000 ft., closed in 1986. Two of the Greenbrier Sporting Club's golf courses replaced the airport's runway.
Photo from a Greenbrier Airlines' rate card.
Sources: Beckley Post-Herald; Raleigh Register; www.greenbriersportingclub.com