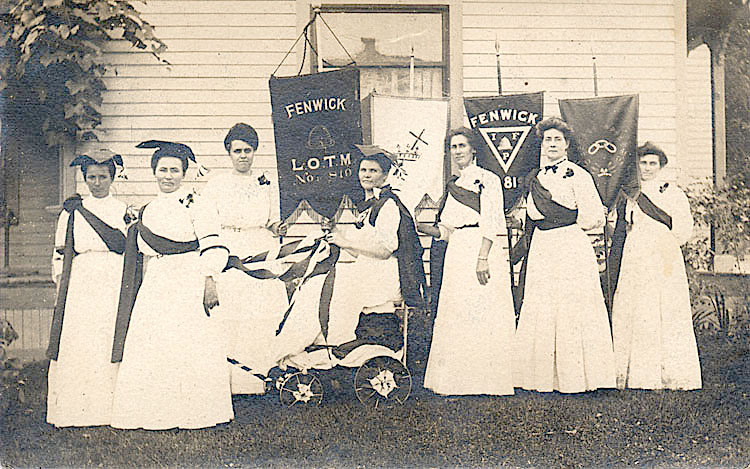 By William "Skip" Deegans
This week's undated photo shows a gathering of the Ladies of the Modern Maccabees (LOTM) in Fenwick, Nicholas County. The Ladies of the Maccabees was a tangent of the fraternal order Knights of the Maccabees that was founded in Canada in 1878. In 1892, a schism occurred, and a new organization, Ladies of the Modern Maccabees, was formed. The word Maccabees stems from a Jewish family of warriors that rebelled against Hellenism in the 2nd century BCE.
The LOTM was a mutual aid society that provided insurance to women. At the time of its founding, average women were considered uninsurable because of the high mortality of pregnancy and childbirth. In addition to life insurance, LOTM provided sick, disability, old age and funeral benefits. It grew to be the greatest benefit society composed and officered solely by women. The sisterhood was open to all white women of good health and character under the age of 70. Their motto was Ad Astra Per Aspera: "To The Stars Through Difficulties." The chapters were called "hives," and you may notice beehives on the banners in the photos. The organization was later renamed the Women's Benefit Association, and by the 1913 it had paid out over $50 million in benefits. By the 1920s, it had over 250,000 members. As insurance became more readily available for women, interest in the LOTM waned and the endowment was eventually rolled over to a private insurance company.
Photo: Courtesy of the West Virginia Archives and History.
Sources: Foundation For Economic Education; www.phoenixmasonry.org; www.jewishvirtuallibrary.org; Glen & Effie Jewelry.