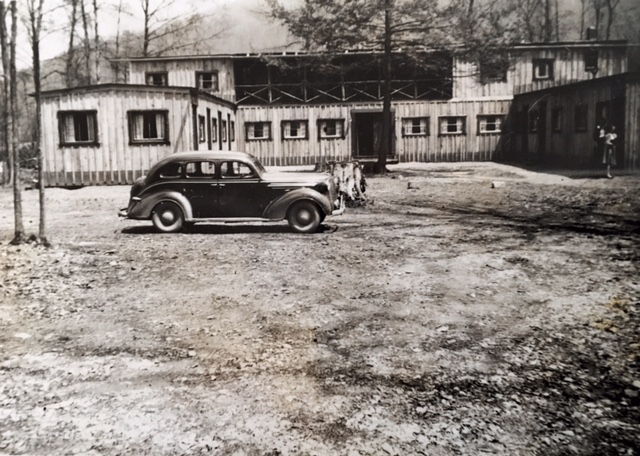 By William "Skip" Deegans
For a brief period, Greenbrier County had a western-style dude ranch. In 1947, Dorsey ("Smitty") and Vada Smith opened the Big Clear Creek Lodge and Dude Ranch on 80 acres in Kessler, a few miles north of Rupert. The lodge had over twenty rooms that could accommodate 50 guests. With a string of western ponies and saddle horses, the resort offered trail riding. In addition, there were tennis, badminton, volleyball, and croquet courts. Swimming, fishing, hiking, horseshoes, archery and in-season hunting were available pastimes.
Fare in the Wagon Wheel Dining Room included Maryland fried chicken, hot rolls, salt rising bread, southern corn pone, hominy grits, country ham, sausage and bacon. Beverages could be enjoyed in the Hunt Club Room that was a miniature replica of the Old Silver Slipper Saloon in Tombstone, Arizona. While future plans for the resort included a landing strip for airplanes, skeet and trap shooting range, pistol and rifle range, and a three-acre stocked pond, it was not successful. Perhaps as a way to stay afloat, Dorsey added a speedway for stock car races in 1953. The lodge eventually closed, and a group of local businessmen tried to operate a restaurant in the dining room.
In 1961, the lodge was listed for sale or lease in the Charleston Gazette. Evidently, no one was game to restart the lodge and West Virginia's first dude ranch ended.
Photo: Courtesy of the Greenbrier Historical Society.
Sources: Beckley Post-Herald, The Raleigh Register, The Charleston Gazette.