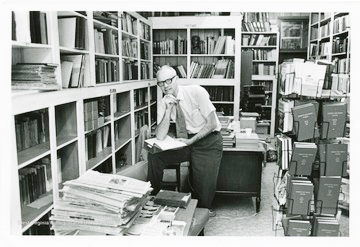 By William "Skip" Deegans
When homemade cardboard signs with the word "Ramps" appear along Route 60, digging ramps in the snow on Cold Knob and the numerous community ramp suppers we had in Greenbrier and surrounding counties come to mind. What also comes to mind is Jim Comstock (pictured).
Comstock published a folksy weekly newspaper from 1957 until 1971 called The West Virginia Hillbilly. While it is difficult to aptly describe the newspaper to someone who had not read it, Matthew Neill Null came close to it when, in The Paris Review, he wrote, "The Hillbilly wasn't just a paper – it was an art project, a platform for historic preservation, a conservative wailing wall, and above all, an exploration of the West Virginian id." Comstock had a weekly column called the "Comstock Load" that he used to lampoon just about everything, but especially politicians. At one point, the paper had a circulation of 30,000.
Comstock was born in Richwood in 1911 and graduated from Marshall University. After serving in the U. S. Navy in World War II, he returned to Richwood where, with a partner, started the Richwood News Leader in 1946. In addition to the two newspapers, he published a 51-volume encyclopedia on West Virginia history. He was a conservative, and in 1964 when Republicans were few and far between in West Virginia, he ran for the U. S. Congress and was beaten badly.
What did Comstock have to do with ramps? After smelling some perfume in a magazine, Comstock came up with a clever idea to promote the Feast of the Ramson, Richwood's annual ramp dinner. He mixed ramp juice with ink when he printed the West Virginia Hillbilly. Since most of the newspapers were mailed, postal workers had to handle the ramp-infused newspapers up and down the postal chain. While Comstock got a dressing down from the Postmaster General, he accomplished his goal.
Richwood's 84th annual ramp dinner is Saturday, April 22 beginning at 10 a.m. and will go to 3:00 or until they run out of food.
Photo: Courtesy of the West Virginia University Regional History Center.
Sources: The Paris Review, West Virginia Public Radio, The Herald-Dispatch.