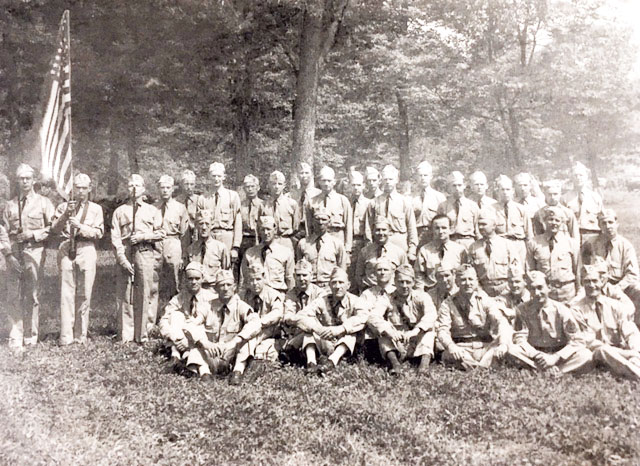 By William "Skip" Deegans
Shown in this 1942 photo is Rainelle's regiment of the West Virginia State Guard, more commonly called the Home Guard. Rainelle's regiment was commanded by Capt. A. J. Boso. Other commanding officers were first lieutenant Richard H. Bowman and second lieutenant James E. Decker.
The Home Guards were authorized by the West Virginia Legislature in 1941 and created the following year by Governor Neely after the West Virginia National Guard was called into active service in World War II. The objective was to have one Home Guard company in each county. Two companies of African-Americans were organized – one in Charleston and one in Welch.
The purpose of the Home Guard was to provide defense should the United States be invaded and to serve in emergencies. Men between the age of 18 and 62 were eligible to enlist. The physical requirements of the regular army were relaxed for the volunteers. The men were issued regular army field uniforms, and they drilled one evening a week with shotguns instead of rifles. Ammunition, rifles, machine guns, and ammunition were kept at the capitol and at armories and could be dispatched when needed.
Locations of Home Guards were sometimes determined by the need to protect local industries important for the war efforts. Rainelle may have been chosen because it was home of the Meadow River Lumber Company and the Nicholas, Fayette and Greenbrier Railroad operations that were important for transporting coal as well as lumber. While largely forgotten in most of the country, the Home Guard continues in some states, like Texas, as a form of state militia.
Photo: Courtesy of Greenbrier Historical Society, George Collins Collection.
Sources: The Raleigh Register, Hinton Daily News.