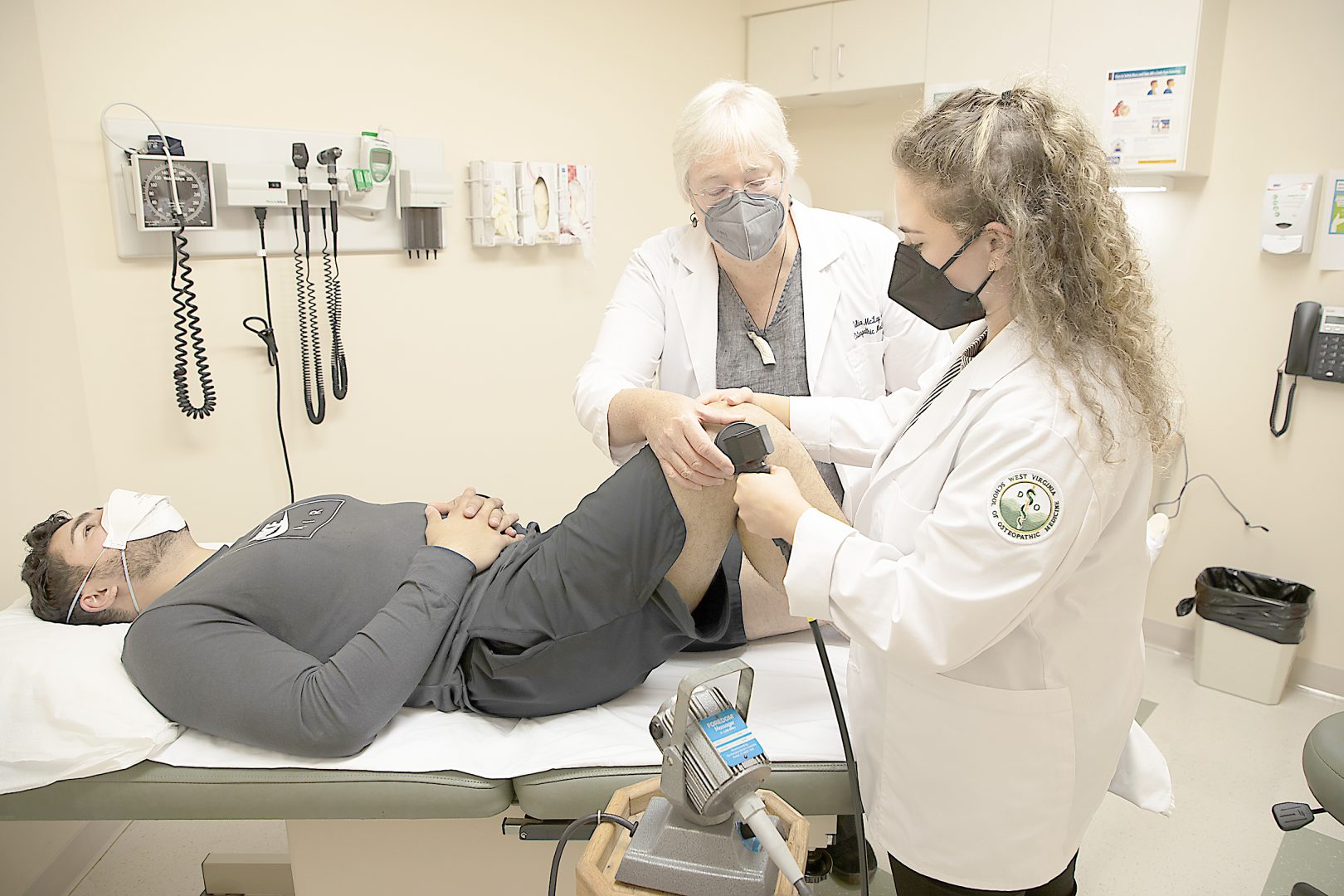 The West Virginia School of Osteopathic Medicine (WVSOM) is inviting members of the public to receive complimentary osteopathic evaluations and manipulative treatment starting Jan. 19. 
The school is accepting appointments for its annual Student Osteopathic Manipulative Medicine (OMM) Clinic, which this year will take place on successive Wednesdays in two four-week sessions. Through the clinic, WVSOM students under physician supervision see patients in the Clinical Evaluation Center on WVSOM's campus in Lewisburg.
The first session takes place Jan. 19, Jan. 26, Feb. 2 and Feb. 9, while the second session takes place Feb. 16, Feb. 23, Mar. 2 and Mar. 9. For both sessions, appointment times are available at 1, 2, 3, and 4 p.m.
In osteopathic manipulative medicine, a system of hands-on techniques is used to help evaluate health, alleviate pain and restore motion through stretching, placing pressure on or otherwise manipulating muscles and joints. Students at WVSOM learn osteopathic techniques in addition to a standard medical curriculum that allows graduates to pursue residencies in any medical specialty.
Jessica Smith-Kelly, D.O., a WVSOM osteopathic principles and practice faculty member who organizes the annual clinic, expressed her appreciation for residents of Lewisburg and surrounding areas who take part in the clinic.
"We at WVSOM are excited to continue to offer the Student OMM Clinic to community members," she said. "Despite the changes we've seen with the COVID-19 pandemic, our students have spent the past two years actively training and improving their skills. I thank those who continue to support our students and our school through their participation."
Smith-Kelly said the safety guidelines instituted for last year's clinic will remain in place for the 2022 sessions.
"Because the pandemic is ongoing, we continue to take extra precautions to ensure the safety of the participants and students. All students will be masked, and patients will be required to mask as well," she said.
Molly McMillion, who took part in a previous Student OMM Clinic, said she enjoyed the experience and likes knowing her participation helps give WVSOM students the real-world education they need to become physicians proficient in osteopathic manipulation.
"I was very impressed with how professional and knowledgeable the students were," she said. "I have had osteopathic manipulative treatment before, and this was as helpful and a great learning experience for me as well. I think it is important to show support for WVSOM and the students as they learn, and this goes a long way to helping them be patient-focused."
Clinic patients must have a referral from a primary care physician, physician assistant or nurse practitioner prior to scheduling appointments. Additionally, the clinic is open only to individuals who do not have an open workers' compensation, disability, or motor vehicle accident claim and are not involved in injury-related litigation.
Participants are asked to wear unrestrictive clothing and to arrive 15 minutes early. Those who arrive more than 10 minutes late may be asked to reschedule, and cancellations should be made at least 24 hours in advance.
To register for one of the two sessions, call 304-647-6286.