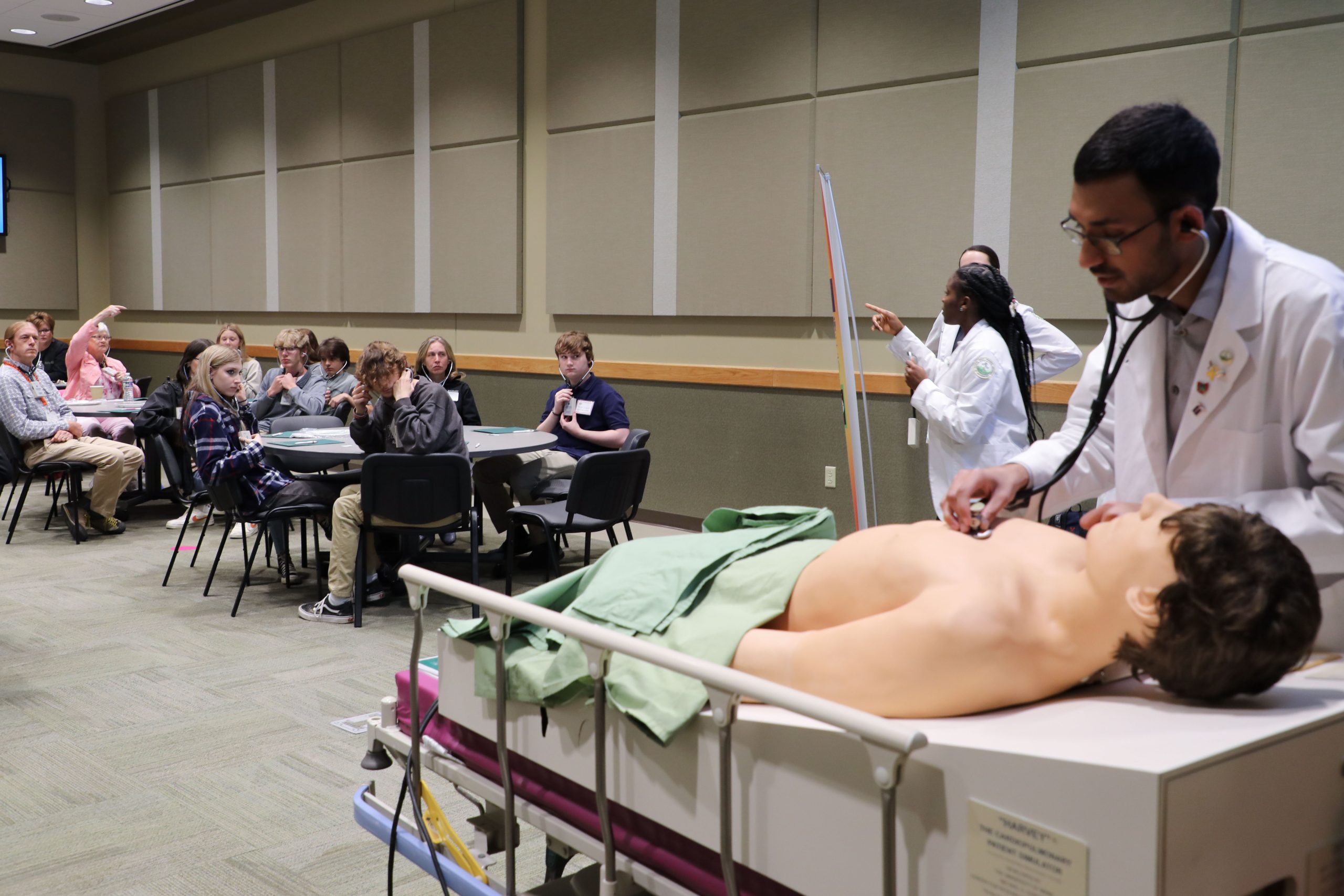 Why does it take so long for new medications to be approved for use? What is osteopathic manipulative therapy? What does the spleen do?
Those are just a few of the questions high school students and adult members of the public learned the answers to during a Mar. 27 visit to the West Virginia School of Osteopathic Medicine (WVSOM) campus for Mini-Med School. Organized and taught by WVSOM students under the supervision of faculty, Mini-Med School is intended to provide health education to residents of Lewisburg and surrounding areas.
It was the first year high school students were invited to take part in the event. Through partnerships with WVSOM's Southeastern Area Health Education Center and Rural Health Initiative program, 53 students from Greenbrier East, Greenbrier West, Oak Hill and Midland Trail high schools and the Monroe County Vocational Tech Center visited the medical school's campus.
Mini-Med School event gives medical students themselves an opportunity to learn communication skills that they will use throughout their careers. Dante Mattioli, a second-year student who is president of WVSOM's Student Government Association, said the event allows students to gain experience in presenting health care concepts before they enter their final two years of medical school, when they will interact with patients.
"As doctors, we're also teachers, because we'll always have to educate our patients," Mattioli said. "Events like this give us a chance to talk about the topics we're passionate about and to practice teaching. Because of that, it's a good segue into our clinical years."
Members of 12 WVSOM student organizations served as instructors at the event. The school's family medicine and internal medicine clubs led sessions devoted to heart and lung health, in which attendees heard the difference between normal and abnormal heart and lung sounds using a human-patient simulator from the school's Clinical Evaluation Center. WVSOM's anatomy and surgery clubs hosted a "pin the organ on the body" game and explained the functions of the kidneys, liver, pancreas and spleen, among other organs.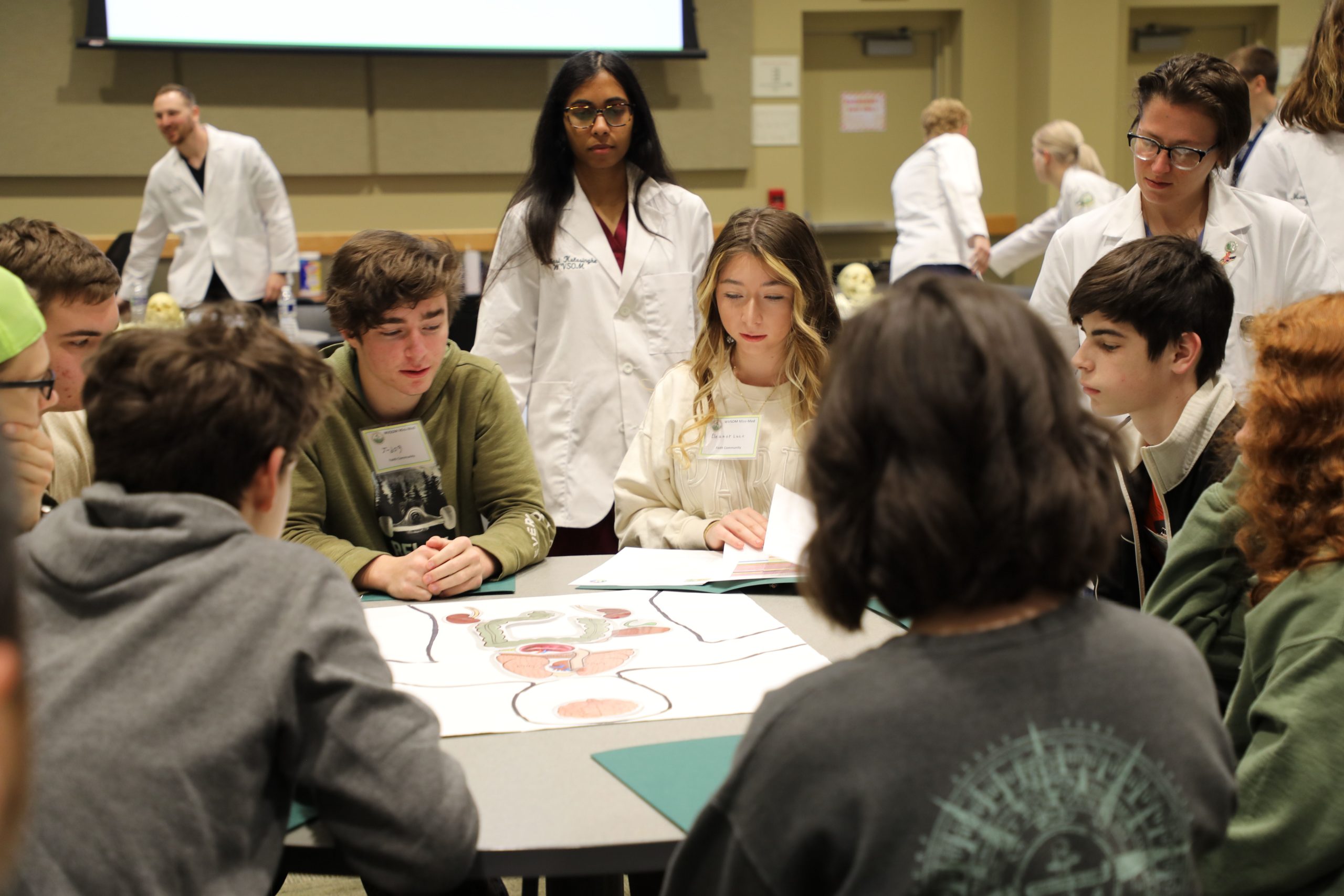 The emergency medicine club operated a session in which participants practiced CPR; learned about emergency medical equipment such as splints, tourniquets and backboards; and saw a demonstration of how to administer naloxone, a medication that can reverse the effect of an opioid overdose.
WVSOM's lifestyle medicine club, sports medicine club and Student American Academy of Osteopathy chapter led attendees through a guided meditation and showed them how to perform an osteopathic manipulative therapy technique on themselves to relax muscles in the back of the neck.
The school's OB-GYN club and Medical Students for Choice chapter taught about social determinants of health – factors such as economic stability, community contexts and access to education that play roles in the health of populations – and detailed the path new medications take before being approved by the U.S. Food and Drug Administration. Many of those present were surprised to learn that it costs nearly $1 billion to bring a drug to the market during a process that can take from 12 to 15 years.
During lunchtime presentations, high school students learned about career options in health care while adult participants heard a lecture on symptoms of stroke and Alzheimer's disease.
Mikki Dixon, of White Sulphur Springs was one of 11adult attendees of Mini-Med School. She said the event was valuable as a way to help local residents acquire the skills to help one another.
"I've learned so much, and I've had a lot of knowledge reinforced," Dixon said. "I've learned how to stop bleeds, how to administer naloxone and so much more. It's helpful that the students are so up to date on their knowledge. We're all in this together, so any information that lets our communities help someone in distress is useful to us all."