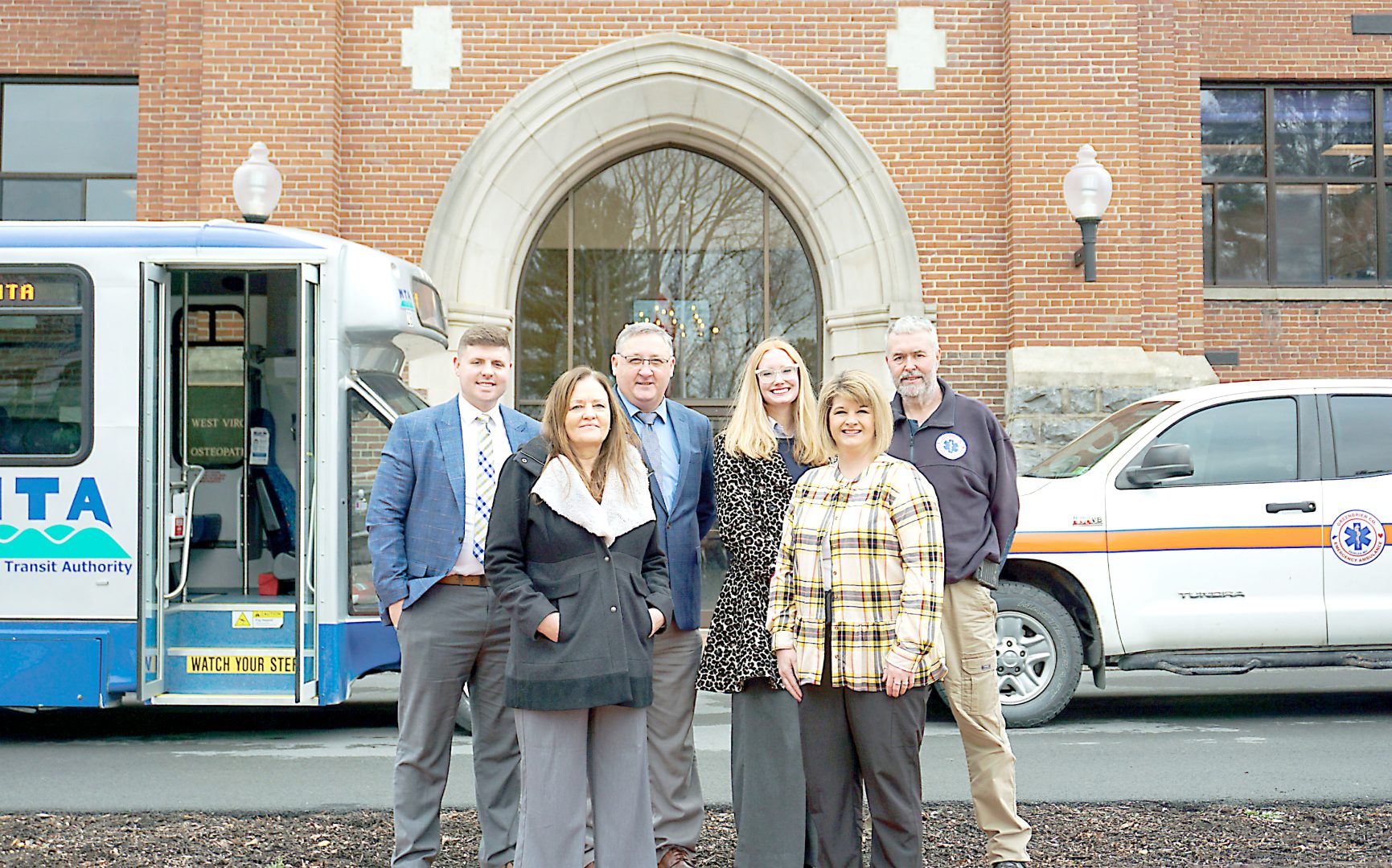 Thanks to a partnership between the West Virginia School of Osteopathic Medicine's (WVSOM) Center for Rural and Community Health (CRCH), Mountain Transit Authority (MTA) and the Greenbrier County Health Department, Greenbrier County residents now can receive free transportation to medical appointments and be more easily tested for COVID-19 and other infectious diseases.
Through a $495,000 Rural Health Disparities grant from the West Virginia Department of Health and Human Resources' Bureau for Public Health, the partnering organizations will provide services aimed at reducing disparities in health care access that result in higher rates of COVID-19 among rural populations. 
The grant allows the partners to provide non-emergency medical transportation for county residents, operate a mobile testing unit and digitize health department patient records. The services are available now and will continue through Apr. 15, 2023.
WVSOM's CRCH drives engagement in rural health by building infrastructure that empowers communities to improve their health and well-being through evidence-based education, research and outreach. Barbara Holt, CRCH executive director, said she is grateful that the grant allows the center to partner with other area organizations to reach these goals.
"We're excited for the opportunities the grant will bring. Greenbrier County residents will have access to free transportation to any non-emergency medical appointment. We realize it's sometimes difficult for people to have someone available to take them to and from an appointment, and we hope this will help alleviate scheduling and transportation challenges," Holt said. "Additionally, the mobile testing unit will allow medical personnel to make home visits to remote areas. While positive COVID-19 cases in the county are trending downward, it's still important to be vaccinated if you have not had an opportunity to do so, or to test if you are sick."
MTA is a public transportation service that operates in Fayette, Greenbrier, Nicholas, Pocahontas, and Webster counties in West Virginia. Through the program, WVSOM will schedule no-cost trips to appointments for Greenbrier County residents using MTA vehicles and staff.
Greenbrier County residents who need transportation to an appointment may call 304-793-6588 and speak with a WVSOM employee or leave a message with their name, phone number and appointment date and time. A WVSOM employee will return the call to obtain further details and determine a pickup time and location.MTA asks that those using the service call at least one week in advance of the appointment date.
To receive transportation, a resident must be at least 18 or must be accompanied by a legal guardian. Accommodations will be made for individuals with special needs such as a wheelchair-friendly vehicle.
Tim Thomas, MTA general manager, said the organization is pleased to participate in the program.
"One of the most important things public transit can bring to a community is to make it healthier," Thomas said. "Mountain Transit Authority already serves areas like Lewisburg and White Sulphur Springs, but with this program we'll also be helping to meet the needs of people in western Greenbrier County. We're excited to have the opportunity to improve the quality of life in those areas."
The grant also provides funds for Greenbrier County Health Department to operate a vehicle to be used as a mobile testing unit for individuals who are non-ambulatory, as well as to purchase supplies to test for COVID-19and eventually for the flu and other infectious diseases. Greenbrier County Emergency Ambulance Service (GCEAS) will work under the direction of the health department to fulfill this portion of the grant.
Wes Hylton, administrator for GCEAS, said non-ambulatory individuals who would like to request the mobile testing unit may call 304-645-2252. An emergency medical technician or paramedic will come to the caller's residence to perform a rapid COVID-19 test and record the patient's blood pressure, temperature and blood oxygen level.
"We're going to try to provide COVID-19 test results on site, and we expect it will take about 17 minutes to obtain the results," Hylton said. "But if we have, say, five calls and five visits to make, we might need to let the tests run from one call while we move on to the next, and in those cases we can provide the results by text, email or phone."
Holt said the expanded testing provided by the mobile unit will improve the accuracy of the COVID-19 statistics reported by Greenbrier County.
"By reaching members of the public who can't get to the health department, you not only increase the chance of getting people tested, you also increase our knowledge of what the county does or doesn't have as far as COVID-19," Holt said.
Additionally, the grant allows the health department to purchase laptop computers and employ staff to digitize patient records from the department's clinic, starting with patients who are most vulnerable to COVID-19 due to underlying health issues.
Nikki Dolan, RN, director of nursing/administrator for the health department, said she expects the partnerships with WVSOM and GCEAS to play a vital role in improving the health of Greenbrier County residents.
"We've had the capacity for electronic health records, we just haven't had the staff to scan our records," Dolan said. "We're excited to work with WVSOM through the Rural Health Disparities grant to make this happen. Electronic health records are the standard of care in today's medical world, and they provide a safe way to track important data such as labs, vital signs and medical history. They will also provide quality assurance and quality improvement to ensure we provide the best care to our patients and identify areas of needed improvement."