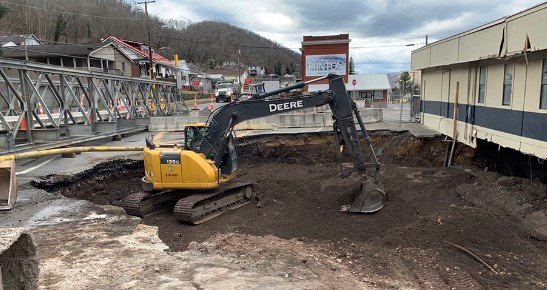 A project completing permanent repairs to a sinkhole along WV 20 in Hinton is among 26 construction projects awarded by the West Virginia Division of Highways (WVDOH) on Thursday, Sept. 28.
Orders Construction Company Inc. was awarded a contract for $4,249,398 to install a new, permanent drainage system under WV 20 n Hinton to carry Brier Branch under the road. The project will be funded by bonds sold through Gov. Jim Justice's $2.8 billion Roads to Prosperity program.
"This will be a permanent rerouting of the stream and a closure of the old drainage structure," said Joe Pack, P.E., WVDOH Chief Engineer of Operations. "It's a permanent fix."
In June 2022, a large sinkhole opened along WV 20 near the Hinton Police Department after an old underground drainage structure collapsed. WVDOH work crews put in a temporary drainage structure and filled the hole, but heavy rains washed out the temporary repair in November 2022.
WVDOH crews then put in a temporary bridge to span the hole until more repairs could be made. In January 2023, crews filled the hole with enough rock and dirt to fill an Olympic size swimming pool until permanent repairs can be made.
Once the permanent repair is complete, the temporary bridge will be removed.