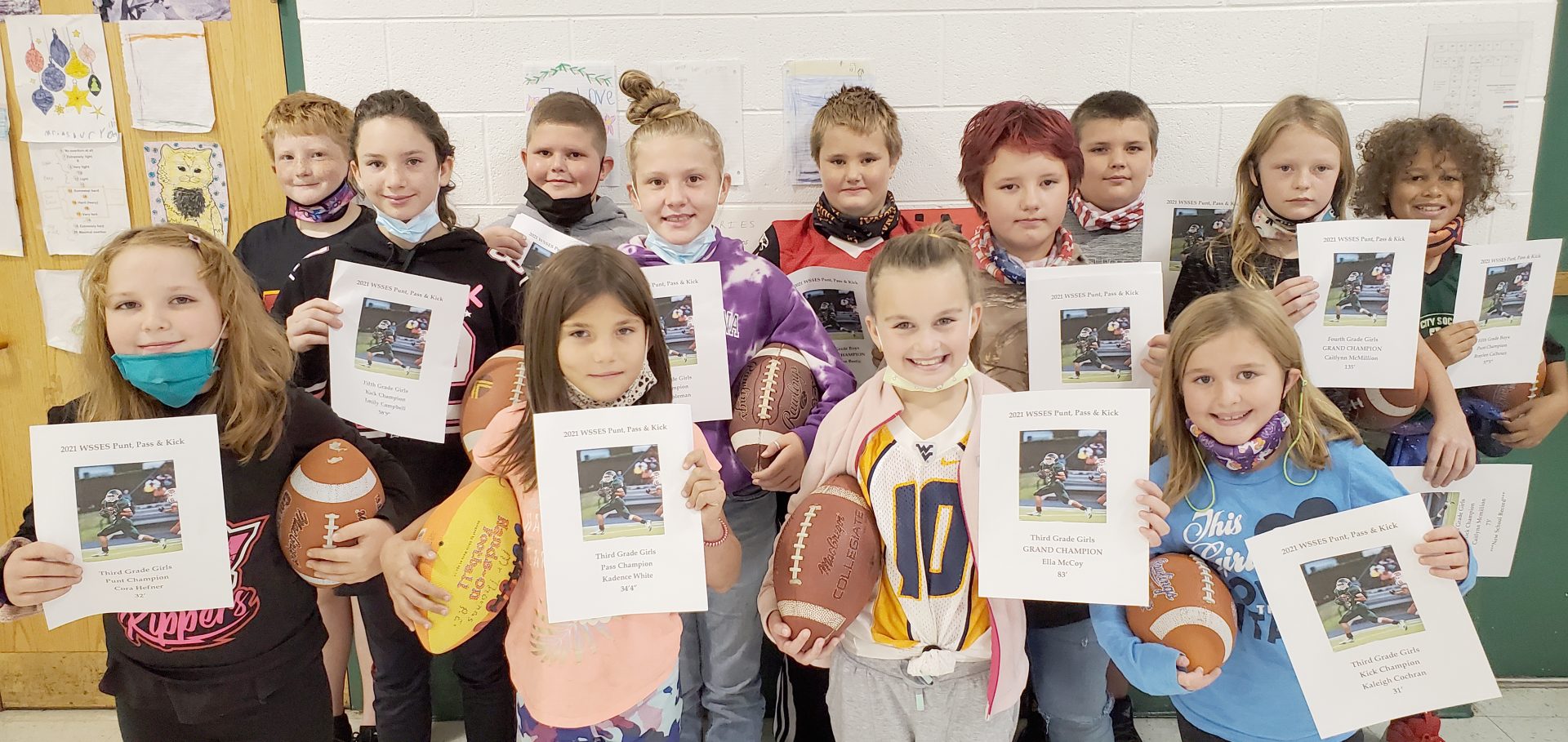 Winners of the 12th annual Punt, Pass and Kick Championships were crowned recently at White Sulphur Springs Elementary School during the first 9 weeks awards. One hundred and thirty-five students in grades three through five competed during PE classes for school championships in Boys and Girls grade and overall categories.
Students were allowed three tries each in punting, passing and kicking a football for distance and accuracy, with the highest total of all three winning the Grand Champion prize. Winners of the individual events were the longest and most accurate in each grade and sex category. 
"The two-week contest followed a teaching unit on football," said WSSES PE teacher Tracy Asbury. "As you would expect, younger children do not know much about the game of football, but what amazed me most were the number of students that didn't even know which end of the ball to hold onto when throwing a football."
This was our 12th year for the contest and there were two new school records set.
The PE classes are now involved in 7-on-7 flag football games where each student is assigned a pass pattern to run. 
"Playing the games at the end of the unit really helped me evaluate how well the students grasped the instruction," said Asbury. "I believe that most students are stigmatized by the perceived violence of football. Once we broke the game down into small chunks of information for them, they understood the finer points of football, not just the collisions. We are having some very competitive games in class, fun to watch."
There were notable performances from third grader Henderson Bostic, who won four events and set a school record in the Punt at 76'4". Colton Anderson won three events in boys 4th grade. Caitlynn McMillion set a new mark for 4th grade girls Kicking 73', and Mabel Bostic won three events in 5th grade contest. All students gave their very best effort and that is what the challenges at WSSES are all about. Whether you fall short or climb high, your effort tells the truth.
WSSES would like to dedicate this year's Punt Pass and Kick contest to retired legendary GEHS wrestling Coach Brian Miluk. Coach Miluk adds the West Virginia Hall of Fame to his two previous Hall of Fame inductions in Ohio. A life lived happily leading our youth in the right direction. Thanks, Coach Miluk!
2021 WSSE PUNT PASS & KICK – BOYS
Third Grade
Grand Champion: Henderson Bostic, total 218'
Punt Champion: Henderson Bostic 76'4" (new school record)
Pass Champion: Henderson Bostic, 70'5"
Kick Champion: Henderson Bostic, 71'3"
Fourth Grade
Grand Champion: Colton Anderson, total 190'4"
Punt Champion: Colton Anderson, 65'4"
Pass Champion: Logan Wyatt, 62'4"
Kick Champion: Colton Anderson, 71'
Fifth Grade
Grand Champion: Rylan Anderson, total – 158'8"
Punt Champion: Braylen Calhoun, 57'5"
Pass Champion: Tayson Harris, 69'4"
Kick Champion: Rylan Anderson, 60'3"
2021 WSSE PUNT PASS & KICK – GIRLS
Third Grade
Grand Champion: Ella McCoy, total – 83'
Punt Champion: Cora Hefner, 32'
Pass Champion: Kadence White, 34'4"
Kick Champion: Kaleigh Cochran, 31
Fourth Grade
Grand Champion: Caitlynn McMillion, total – 135'
Punt Champion: Nevaeh Coleman, 44'2"
Pass Champion: Thea White, 42'
Kick Champion: Caitlynn McMillion, 73' (new school record)
Fifth Grade
Grand Champion: Mabel Bostic, total – 163'
Punt Champion: Mabel Bostic, 45'6'
Pass Champion: Mabel Bostic, 60'
Kick Champion: Emily Campbell, 58'9"