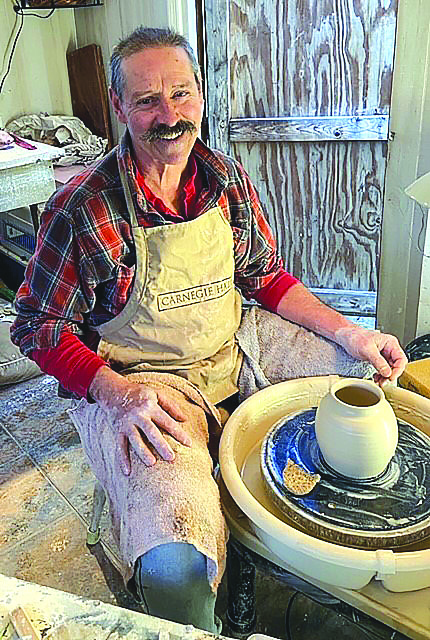 Carnegie Hall's Fall Classes & Workshops get an early start with a great opportunity to learn how to wheel throw class with Sean O'Connell. There will be two six-class sessions starting Monday, Sept. 5.
In this introduction to wheel-thrown ceramics, teens and adults will explore how to prepare clay for throwing, learn how to center clay on the potter's wheel, and make simple vessel forms such as the cylinder, bowl, and plate. Through this process, students will get a feeling for working with earth-based clay and the many possibilities it offers for creativity. Students will also learn techniques for glazing and finishing their work. Having fun will be emphasized. Beginners and those with experience are all welcome.
Session 1 take place on Mondays, Sept. 5, 12, 19, 26, and Oct. 3, and Thursday, Oct. 27 (no class Oct. 10 and 17). Students wanting to create ceramic gifts as presents should take Session 1 to have their items fired before the Holidays. Session 2 takes place on Mondays, Oct. 31, Nov. 7, 14, 28, Dec. 5, and 19 (no class Dec. 12). All classes are from 6 to 8:30 p.m.
Registration is $225 for members ($250 for nonmembers), but all students qualify for an automatic scholarship and pay only $200. All materials are provided. Students must be 17 years old and class size is limited. To enroll or for a complete list of classes and workshops visit carnegiehallwv.org/classes-and-workshops or pick up a Classes & Workshops brochure at 611 Church Street, Lewisburg.
Sean O'Connell is a ceramic artist from upstate New York and Greenbrier County resident since 2013. From 1995 to 2003, O'Connell studied all aspects of ceramic arts with Professor Regis Brodie at Skidmore College in Saratoga Springs, NY. He has done exhibitions in several museums and art centers in New York and Massachusetts, including the Ginofor Gallery in Cambridge and Tang Museum in Saratoga Springs. Today, Sean teaches ceramic art classes at Carnegie Hall in Lewisburg. He also maintains a working studio at Lee Street Studios in Lewisburg. 
Carnegie Hall is a nonprofit organization supported by individual contributions, grants, and fundraising efforts such as TOOT and The Carnegie Hall Gala. The Hall is located at 611 Church Street, Lewisburg. For more information, please call 304-645-7917 or visit www.carnegiehallwv.org.