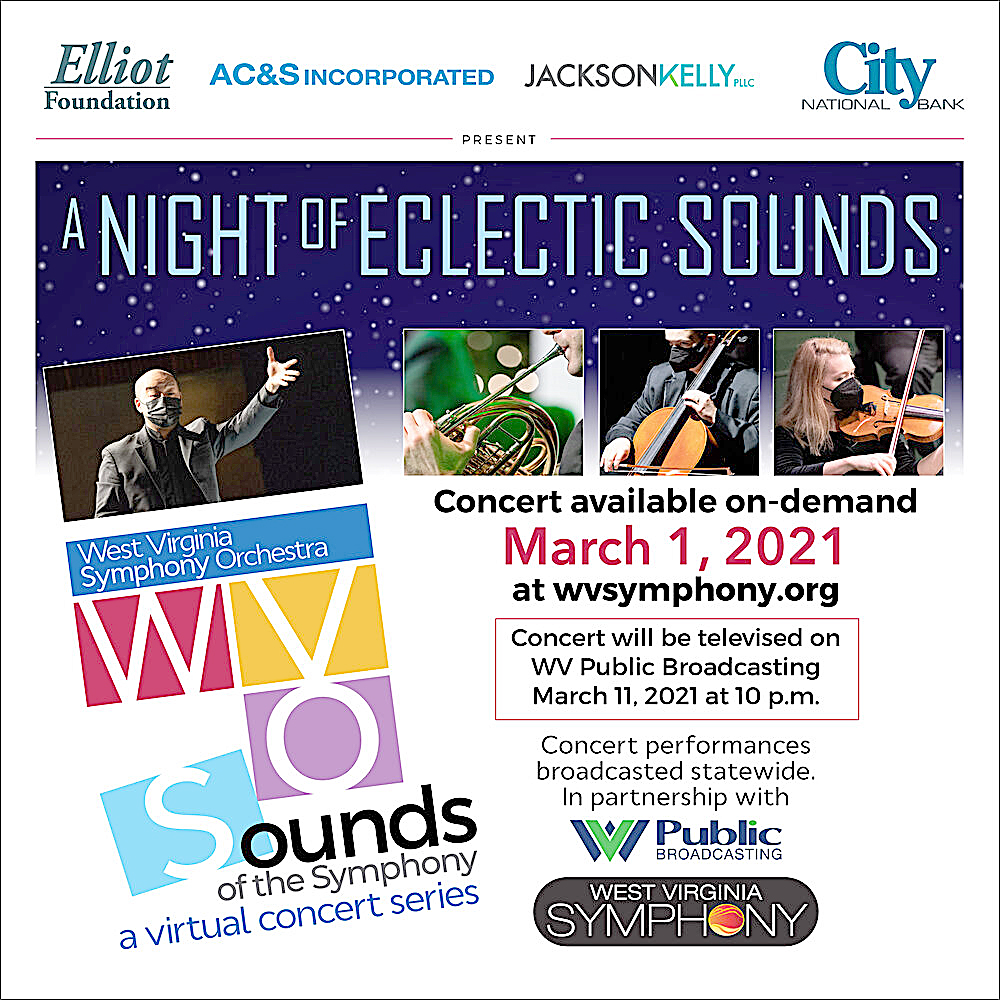 The WV Symphony Orchestra (WVSO) will feature members of the Brass section and a quintet with pianist Barbara Nissman in a new concert available for digital stream, and television broadcast on March 11, on West Virginia Public Broadcasting.
"A Night of Eclectic Sounds" is available as of Monday, Mar. 1, and will be hosted on the Symphony's website for 30 days. Tickets for access to the stream are available for $15 for single tickets and $25 for family tickets and can be purchased through wvsymphony.org. As a thank you for your loyal support, all subscribers to the 20-21 season will receive complimentary access to the live stream. This access is available to subscribers regardless if they have received a refund or donated tickets from cancelled concerts in 20-21 season. For more information or questions regarding access, please contact Amanda McDonald, amcdonald@wvsymphony.org or 304-957-9880.
Thanks to a partnership with West Virginia Public Broadcasting, this concert will be broadcast statewide on Thursday, March 11 at 10 p.m. on all West Virginia Public Broadcasting television channels.
"We are thrilled to bring another streaming and televised concert to our patrons during this time, and even more excited to showcase our musicians on stage with Ms. Nissman," said WVSO President Joe Tackett.
"A Night of Eclectic Sounds" was originally recorded in late December from the Culture Center stage and features chamber music by musicians of the WVSO. Guest conductors Luke Zyla and Robert Turizziani alternate taking the lead throughout the brass portion of the program which includes chamber pieces like Fanfare from "La Peri" by Dukas and the Antique Suite by Horvit.
The second half brings local favorite, Barbara Nissman, to the stage on piano with members of the strings section to perform Schubert's Piano Quintet in A major, most known as the "Trout Quintet".
This concert is made possible thanks to our generous sponsors the Elliot Foundation, City National Bank, Jackson Kelly PLLC, and AC&S Incorporated. The WVSO thanks its loyal patrons for their continued support and engagement during this time.
The West Virginia Symphony Orchestra is West Virginia's premier performing arts organization, presenting classical, pops, and chamber-music concerts annually throughout the Mountain State. Currently in its 82nd season, the WVSO is a proud member of the community and enriches the region by providing affordable, high-quality concerts, collaborations with West Virginia arts organizations and a nationally award-winning education program.