By Lyra Bordelon
Following the reopening of schools in Greenbrier County, many have wondered how the school system will continue to move forward during the COVID-19 pandemic. Those wanting a more personal look at the Greenbrier County system could tune in to Delegate Cindy Lavender-Bowe's recent Facebook Town Hall, offering several parents and teachers as speakers to examine how the system has functioned.
Both parents and teachers are worried about the safety of the children and keeping them from being exposed to COVID-19, but many are feeling the strain of trying to teach while keeping everyone safe. Allyson Carr, a seventh-grade teacher, is worried about how remote and reduced instruction has affected the relationships between the teachers and students.
"Students just seem different this year," said Carr. "I don't know if the other teachers see that or not. They're a lot more quiet. I think that they're getting better as the year goes on and the weeks go on but I worry about that."
Carr explained this worry has been echoed by a number of her colleagues.
"Every teacher that I've talked to wants to be there five days a week, wants to have 25 kids in their classroom, and get to know their kids," Carr said. "Even some of our hybrid kids that are coming to school, it's really hard to make that connection with them because you only have that shortened amount of time to get to know them, especially on Google Meetings. We're in middle school, most of the kids put a picture of a little dog or another picture when they're on Google meetings and you never see them. I'm missing that personal connection."
At the beginning of the year approximately 65 percent of families chose the in-person plan for instruction, and 35 percent chose to stay completely remote.
"Trying to function in a [part-time or virtual] classroom where you normally teach all day and you have the kids in class, it's hard," Carr said. "You don't see them, especially those kids on Monday, you don't see them again until Thursday."
Another hurdle is the difference between completely remote students and those that returned to part-time, in-person classes – balancing teacher and class time between the two can be difficult. Several of the town hall speakers were also parents trying to navigate the system, with students fully online or returning to class as part of the Greenbrier County Schools reopening plan.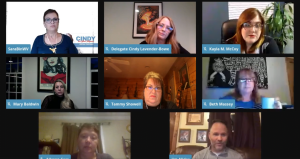 "It's a lot," said Tammy Showell. Her son is home full time due to pre-existing family health concerns. "It's taking, on average, four to five straight hours a day of working. Focused, straight working. At this point I want to send him back to school because I think it would be easier. I want to, but I can't. … It's been a challenge."
"It's stressful for my daughter as well because she doesn't know her teacher at all," said Kayla McCoy. "She speaks to her on the phone, once a week, that's it. We're just making the best of an awful situation and just trying to get through it. … I feel like, as a [working, single] parent, I'm forced to chose between not only my daughter's health and safety but mine as well, and her ability to have a well rounded education."
"I've had no issue so far with my oldest, she's managing a lot of AP classes, but it's been a real hiccup [for my middle-school aged daughter]," said Mary Baldwin. "Having been a teacher, I want to make it fun, keep it interesting, but also work, and do my work. … My fear with her is the retention and what is she learning just as she's wading through work and not [having] the instruction time. In her mind, she's feeling punished for going to school because she's in school all day, then when she gets home at night it's waiting for her."
"I have a son who is in the 11th grade and already I've had a teacher who's come to him and said I'm going to pull back some of the assignments, because they were unsure of how many assignments to give," said Bowe. "It's hard to judge because they haven't been in this situation before."
One virtual space inside the school has been slightly less affected by this – extra curricular activities. Agriculture teacher Beth Massey and band instructor Jim Allder each noted they have been able to engage with students. Although both explained the situation is far from good, they each found positive things that have emerged that could be used as a model going forward.
"I don't have discipline problems in my classroom because [the students] know that I know mom and dad. I think that we're seeing right now is a return to that and a lot of parents and teachers making a connection again because we teachers have been missing that too," Massey said.
"It's not ideal and its not a situation that I would chose, but I will say there are some benefits that are coming out of everything," Allder said. "I'll give you an example. … I had a student that … in the live scenario class, he was a class clown, he would come in and socialize every day, never got his work done. … As soon as we went remote, he was much more focused, he was turning his work in on time in the online environment and it was good. … One thing that I'm also trying to look at is how are we learning from right now and take those to … if and when we return to regular, normal school, what can we gain from this and make normal school better?"
Outside of the school system, a partnership between Dinsmore & Shohl and a number of local organizations is offering free, local tutoring for students needing extra help. To sign up for tutoring, email Jennifer.mason@dinsmore.com or tammy.bennett@dinsmore.com.
Educating Greenbrier County's youth is a massive, ongoing task, but two other critical functions the school systems provides that are causing concern for both school personnel and citizens are children's access to food and the crucial role the school plays as a reporter of abuse. The number of food pick-up sites in some counties have been reduced, as reported by Mountain State Spotlight, and the Justice administration has more that $1 billion in CARES Act funding that must be used by December 30. In addition to speaking as a parent, Greater Greenbrier Long Term Recovery Director Kayla McCoy, who worked with the task force to distribute over 6,000 meals in the first two weeks of the local school shut-down, explained she still receives calls from parents needing help.
"We have so many parents that are relying on school to feed their children two meals a day," explained McCoy. "Greenbrier County is a free breakfast and free lunch county, and we knew immediately that we were going to have a massive problem that our area food pantries were not prepared to handle. …. Because of my involvement early on, even though I haven't touched that program since April, I still get calls of 'hey, we don't have groceries, we are experiencing issues with our snap benefits, I cannot feed my children for the next two weeks, I called 211 and was referred to food pantries who cannot meet my needs, what can I do?' … We desperately need to be doing more to support the working families of West Virginia so that they can afford to feed their children so that we're not reliant on school being in session for our kids to get two meals a day."
"A large amount of the reporting, whether it be sexual abuse or physical abuse or mental abuse, is reported by the school system," Carr said. "Right now, those are probably the kids that have gone dark. Us not seeing them with our eyes or seeing them go down the hallways or a change in behavior, things like that are scary."
If a student stops turning in assignments, they are brought to the attention of school administration, who is supposed to research it further. According to Greenbrier County Child and Youth Advocacy Center (CYAC) Executive Director Staci Russell-Teaney, the best things for those concerned about a student is to report it.
"I think the thing to remember is these are kids and they are voiceless. especially the really young ones," Russell-Teaney previously told the Mountain Messenger. "It's better to have it investigated and looked at and be wrong than to have a child experiencing abuse at home and no one is speaking up for them."
Although the CARES Act is restricted to COVID-19 expenses, $2 million in funding has found its way to Greenbrier County for roads. Funding to combat these school issues, which have been only exasperated by the pandemic, has not.
"It always comes down to funding," Bowe said. "We need more psychologists, we need more social workers. Schools are the places that are expected by society to fix all the problems. Teachers wear so many hats, school service personnel wear so many hats. … When you have something like [the pandemic] happen, it becomes glaringly obvious how much better this could go if you guys, the teachers, had the services they could provide for their students, if you could pick up the phone and call the social worker and say 'we have not heard from this kid.'"
The future looks uncertain as West Virginia and the United States continues to deal with the fallout from COVID-19. All Greenbrier County can do, in the words of Superintendent Jeff Bryant, is take it one day at a time and "try to keep our head high, looking forward the entire time we're doing it." With the Board of Education continuing to update its plan, the main thing Greenbrier County residents can do with their concerns is bring them to their elected officials and help work through them together.
"I've been very grateful from the get-go that Greenbrier County Schools that had, probably, the best plan for reopening in the state, based on what I was hearing from other folks," Bowe said. "It was very well planned, and well thought out, but as we listened to everybody talk, of course there's hiccups. … What these parents are going to relying on is the adaptability of our teachers and our kids too. … I think everybody is working really hard to understand and to figure this out."