By Lyra Bordelon
Vice President Mike Pence joined Governor Jim Justice and several other representatives and members of the West Virginia COVID-19 task force on Saturday, August 15. Pence also attended a Trump-Pence fundraiser at The Greenbrier, and was met with a "small but mighty" group of protesters outside of the Greenbrier Valley Airport.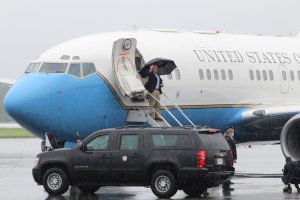 Pence spoke as part of Justice's COVID-19 press briefings.
"I want to commend not only you, Governor Justice, but your team," said Pence. "… I want to join you in saying that, while West Virginia's record has truly been extraordinary given the vulnerabilities West Virginia has face, in regard to being an older population [compared] to states around the country, but also having many conditions doctors call 'co-morbidities' [for COVID-19]. Nevertheless we still grieve the loss of more than 150 West Virginians and on behalf of our task force and our administration; I want to express our deep sympathies to all the families who have lost loved ones. I truly do believe, Governor, that because of your leadership and because of this team you've assembled and because of the cooperation of the people of West Virginia, that you've saved lives in this state."
"We all know it's been a struggle, but we could have never, ever gotten out of the gate if it hadn't been for this man right here, his team," Gov. Justice said to Vice President Pence. "How they have pivoted and how they have adjusted to something that came like a wave beyond belief is incredible."
Pence and Justice were joined for the briefing by U.S. Senator Shelley Moore Capito, Congresswoman Carol Miller, Congressman Alex Mooney, United States Secretary of Agriculture Sonny Perdue, United States Centers for Medicare & Medicaid Services Administrator Seema Verma, West Virginia Coronavirus Czar Dr. Clay Marsh, and West Virginia National Guard Adjutant General Maj. Gen. James Hoyer. For more information from the briefing, see the governor's updates in the next edition of the Mountain Messenger.
According to reporting from the Associated Press, Pence also attended a fundraiser at The Greenbrier, featuring a luncheon to support the Trump-Pence campaign. Costs began at $2,800 a plate, continuing to rise to $25,000 per person for a roundtable seating. This drew the attention of the local group Race Matters in Education. Although the protest was planned on short notice, a few members gathered outside of the airport, calling for a "physically distanced protest" and hoping to show Pence "our discomfort in the presidential leadership."
"We had a small but mighty group of three!" said Cici McLay. "We had nine Biden signs on display and stood in the misting rain with signs expressing our shock at the list of crimes and federal violations that Trump has committed. We wanted Vice President Pence to know that his executive branch team is not supported by all in Greenbrier County."