By Lyra Bordelon
The Urban Deer Hunt was not approved by Ronceverte City Council during their September 14 meeting. In addition to consideration around an opioid lawsuit and an update to the city's ongoing water project, the deer hunt was not voted on by council, instead dying without a motion.
Before it was discontinued in 2019, the urban deer hunt program offered through the West Virginia Department of Natural Resource allowed licensed hunters to hunt deer with a bow and arrows within city limits, as long as they were permitted through the program and had explicit permission from the individual property owners. Although the program was discontinued last year on the recommendation of then-Police Chief Rusty J.R. Byer Jr., current Chief Jerry Hopkins recommended the program be reinstated due to lessened requirements for the department.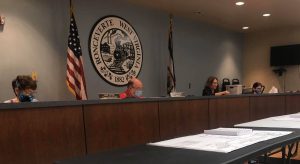 "We don't have to check anymore – they can check through the website or call in the 800 and check the deer in that way," said Hopkins. "The rules we had before, the officer had to come to city hall [but now] you check it through the website and it does the same thing."
There were also a few voices of public support for the program during the citizens' comment section of the meeting. Bringing some information from the Department of Natural Resources, David, Dennis, and Danny Austin, joined by Charlie Campbell, asked council to reinstate the policy after it was discontinued in 2019.
"We've had … numerous land owners ask us about trying to come on our property and ask us about killing the deer because it's eating up all their shrubs and doing damage all around the house," said David Austin. "We tell them we can't do anything about it – if they want something done they need to contact you guys and let you know the problems they're having. I'm just encouraging you to reinstate the urban hunt. You can kill seven deer and most of the ones we kill, we gave to people in need. … We're very responsible. We did it the whole time it was in [place], never had a problem. We had permission from 10 to 15 land owners, giving us written permission to come [and hunt] on their properties."
Some pushback however came from Recorder Deena Pack, who questioned if there was data to show that the program controlled the population and voiced some opposition on the grounds of safety.
"My concern, which is the same concern I had last year when I voted against it, does involve if they're hunting in daylight hours in city limits, where my children are outside playing and my neighbors do live close to our home," said Pack. "That is a safety concern to me, even if they are responsible, licensed, permitted hunters. That is my concern as a parent living in city limits."
Ultimately no councilmember made a motion to pass the program, resulting in it dying before coming to a vote.
In other business:
Council approved the city to join in a lawsuit against opioid manufactures after Smith was approached by an attorney already involved in the suit. He explained the city has "a firm in Huntington, and I think in Charleston, that wants us to join them in opioid litigation. According to what the attorneys are telling me, there's no cost to us. The cost will all be taken along with whatever happens with the litigation. We have a chance to get a considerable amount of money – we would have to use a certain part of that money … for opioid related projects and the rest is for us for however we may want to use it." 
A resolution for the city's ongoing water project was approved, with the project expected to begin construction within the next three months. One of the first construction bids is expected to be opened on Wednesday. In addition, the second reading of a bond ordinance for the project was approved.