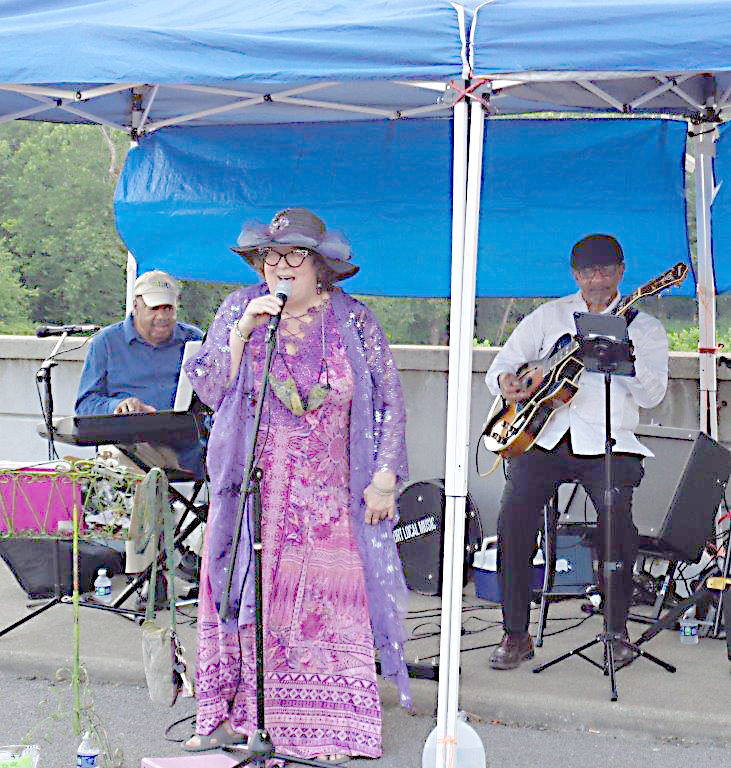 On Sunday, Aug. 7, from 6:30 to 8 p.m. the annual "Tribute to Bricktop" concert returns to the Alderson Memorial Bridge with Susanna Robinson leading a great group of musicians.
Writer/Artist/Vocalist Susanna Robinson has been a fixture and creative force in the Lewisburg area for more than 25 years. She was a founding member of long-lived jazz combo Ghost Town Swing, well-known state-wide and beyond for their sultry interpretations of jazz standards and has often been featured as guest vocalist for the Manhattan Jazz Quartet. Robinson has also appeared with Ancestor Radio and Sam and Janet Evening, as well as the eclectic Squawkin' Henry.  She still returns to her jazz roots by belting it out with her jazz back-up group, Hoffman, Penn, and Bowen, formerly known as the Robinson-Kenga Trio.
The group will be entertaining in the spirit of Ada "Bricktop" Smith, once the toast of Paris, who hailed from Alderson, WV. Her rich life and many stories were regaled throughout the world, and her warm but decadent ways delighted the elite of the elite, who frequented her establishment, "Bricktop's" in Paris.
Joining her at the 8th annual "Tribute to Bricktop," will be guitarist extraordinaire Bill Hoffman, who hails from Roanoke, VA. Hoffman is known for his flawlessly smooth style, and his sweet renditions of jazz standards. He is an exceptional musician with an amazing technical knowledge of jazz. Hoffman currently plays with several groups including Roanoke's big band, The Old Timers.
Keyboard player and crooner William Penn, whose legendary reputation in Roanoke's jazz and R&B musical worlds speaks for itself, will be adding his special style to the concert.
Rounding out the combo is upright bassist Bob Bowen, a superb musician and experienced player. This will be his first performance with the group. In demand as both live player and session musician, he is welcomed!
As a special addition to the evening's performance, the group welcomes two lovely young voice students as special guests. Teens Ella and Kylee will join Susanna to sing a couple of tunes.
There will be hot dogs with all the fixins' available for purchase along with water, soft drinks, and other treats.
This annual concert is sponsored by Alderson Main Street with financial assistance from the Arts and Recreation Fund of the Greenbrier County Commission.
Alderson Main Street President Doris Kasley said, "Bring your own lawn chair and perhaps a parasol. Watch the sunset over the Greenbrier River from a beautiful setting. It's a wonderful way to spend a summer evening."