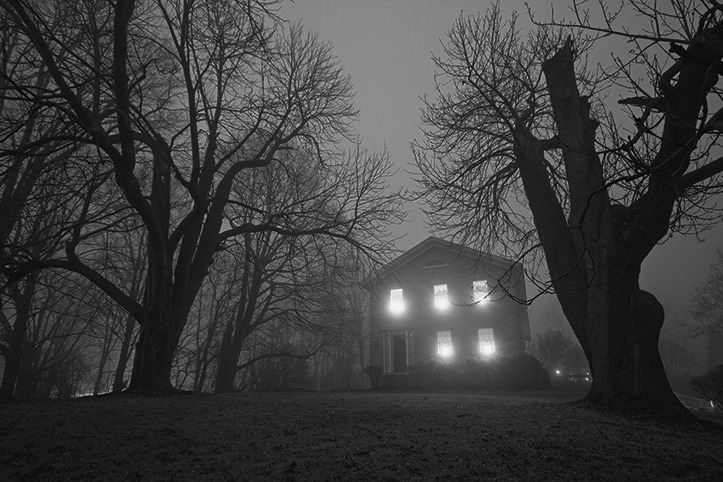 Many transformations occur during the month of October. Leaves begin to turn various shades of orange and red, while the weather gets decidedly cooler. In the meantime, neighborhoods across the country begin to look quite different, with many homes decked out in the garish garb of Halloween.
The National Retail Federation together with Prosper Insights & Analytics reports that decorating one's home for Halloween is the second most popular way to celebrate the holiday. Only purchasing and sharing candy beats out home decor. Individuals spend billions collectively on Halloween each year, and one of the ways they can have some frightening fun is by transforming a regular, unassuming home into a haunted house. There are certain necessities to turn a an otherwise typical home into a suddenly spooky abode.
Scene setter:

Start with a scene setter if you would like to decorate both inside and out. Scene setters are plastic or paper backdrops that can be tacked up on walls to make a house look completely different, particularly under low light. A scene setter is an investment of time and money, but it can be reused each year and really make a room take on a new look quickly.

Lawn graveyard:

Visitors to the home who have to step through a graveyard will know there are more scares ahead. It's relatively easy to make your own grave markers from wood or foam. If you're not handy, you can purchase them from a Halloween supply store. Disturb the earth by the markers to make visitors believe each grave is fresh. A bony hand sticking out of the dirt or some wilted flowers placed by the graves also can set the scene.

Floating candles:

Simulate the look of levitating candles with an easy craft. Take toilet paper or paper towel cardboard tubes and use hot glue on the top to make it look like beads of dripping wax. Paint the tubes with white chalk paint, as this type of paint is thick and covers easily. Glue a battery-powered tea light to the top for the wick. Poke a hole through both sides of the tube and thread some fishing line through. Use your mounting device of choice to attach the fishing line to the ceiling indoors or outside to hang each candle. When the lights are dim, it's very difficult to see the fishing line and the candles will appear to be floating.

Haunted archway:

Make an arch using PVC pipes, and thread jack-o'-lanterns or papier mâche heads or masks through to create an ominous arch that greets visitors.

Handprints:

Use window-safe paint to create bloody handprints on the inside of windows. This is a design touch that will enhance both the interior and exterior of the windows.

Fog machine:

Use a fog machine to spread a creepy mist where you need it, whether on a front porch or indoors.
Haunted houses come together with various design touches that are easy to execute.