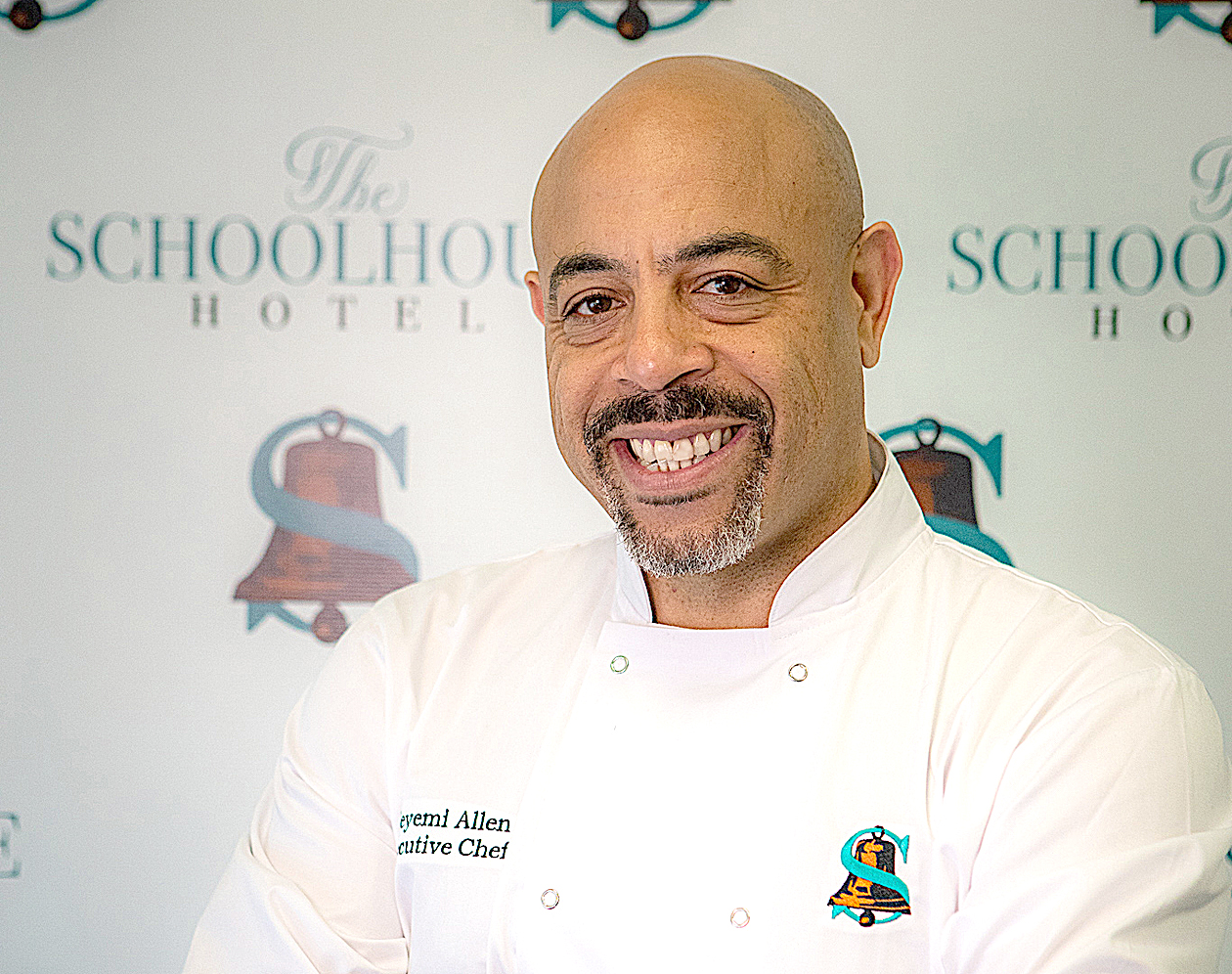 The Schoolhouse Hotel is thrilled to announce the newest member of our team, Executive Chef Adeyemi "Day Day" Allen. Chef Allen comes to White Sulphur Springs via the popular Ballantyne Luxury Hotel in Charlotte, NC, where he has served as the Executive Banquet Chef since 2018.
Chef Allen is no stranger to White Sulphur Springs or The Schoolhouse Hotel. He walked the halls of the school as a student years ago, and graced its basketball court in league games. He is also worked under Chef Peter Timmins at The Greenbrier and served as Lead Chef at The Greenbrier for four years.
"Working at The Greenbrier and other upscale hotels taught me a lot about hospitality and food service needs," says Allen. "Things like learning what guests like or need before they arrive, always addressing them by name, and building a portfolio around that guest – those are the things that will take us to the next level and make everyone feel welcomed at The Schoolhouse Hotel."
Chef Allen says that when his mother passed away a few years ago, he left the region while most of his siblings stayed somewhat close. When the opportunity to open The Schoolhouse Hotel came along, he decided it was time to come back.
"I prayed on it and it just felt right," he says. "After touring the place, it brought back a lot of memories. I feel very blessed to have this opportunity to come home and do some exciting things with this hotel."
"We are thrilled to have a White Sulphur Springs native come home to join our team at The Schoolhouse Hotel!" exclaims General Manager Cindy Bennett. "As the food scene in White Sulphur continues to grow Chef Allen's fresh, innovative style combined with his love of regional cuisine will make him someone to watch for sure."
Chef Allen says that guests should expect an upscale southern approach to his menu. "We will have something that pleases everyone. But if it's a burger or steak you're ordering, it's going to be the best burger or steak around!"
The Schoolhouse Hotel will begin taking room reservations this fall. They are already in the middle of a giveaway of $25,000 to the first few lucky couples that book a wedding for 2022. A Job Fair will be held Sept. 10-11. For more information about the hotel and wedding giveaway, visit www.TheSchoolhouseHotelWV.com.