By Lyra Bordelon
This week saw the 100th anniversary of women's right to vote in the United States, ratified by the 19th Amendment to the Constitution on August 18, 1920. In Lewisburg, plans by Blue Skies Ahead to attend parades and public events in suffragette garb to honor the anniversary have been upended by COVID-19 cancellations. As a result, the group shot a short film in downtown Lewisburg called 100th Anniversary of Women's Super Power: The Vote!
Blue Skies Ahead, the politic action committee formed by members of the Greenbrier County Democratic Women's Club, is focused on a "robust" Get Out the Vote campaign in 2018 and in the upcoming 2020 election. The video celebrates the hard fought efforts to win women's suffrage and pushes for all women to use their right to vote.
"We decided we would do something more artistic and creative that highlighted a generational aspect of women being strong and participating in monumental ways in our history" said Cici McLay, a member of Blue Skies Ahead. "We've got a women GI in the film, we've got a Rosie the Riveter in the film, a women demonstrating black women's activism in the 70s. We wanted to show the fight to get the vote and how women have contributed in our U.S. society in strong ways."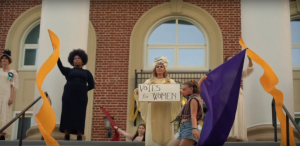 The video was filmed by Mary Grace Legg, a cinematographer with Lockerpartner Productions, features 18 cast members, and a dance piece directed by choreography Carli Marenck. Shot in front of the Greenbrier County Courthouse,the Blue Skies Ahead office, and New River Community and Technical College, originally the Lewisburg Female Institute, in downtown Lewisburg, the sets served as a fitting locations "for conceptualizing the hard climb to equality, one that we are still climbing today."
Although members if the group were able to attend the Shanghai Parade in Lewisburg in January, a majority of the events Blue Skies Ahead planned to attend have been canceled. McLay explained the purpose of the celebration was to get people to use the rights their forebearers fought so hard for.
"We had been planning all along to be walking in and showing up at every kind of public [event] that we possibility could wearing suffragette outfits and bringing attention to the fact that this was such a hard fought, wonderful win for women to get the right to vote," McLay said. "It was not given, it was a struggle. What our sisters went through 100 years ago. We wanted to highlight that and point out that we need people to use their vote. It's a hard won thing to be able to have this right, so use it."
Blue Skies Ahead can be found at their website, www.blueskiesaheadwv.com, or emailing blueskiesaheadwv@gmail.com.
An outline of the suffrage movement, written by Kelly Kemp, can be found below:
A Brief History of the Suffragist Movement in the United States
By Kelly Kemp
"Give her the fruit of her hands and let her own works praise her in the gates…"
In early America white men had all the power.
They owned all the land…they also owned other people.
They ran the government and wrote the laws.
Women had no civil or political rights. They took care of the home and children, but there was an awakening.., a dawning.
Women wanted rights. They knew they had no power without the VOTE. They started organizing.
In July of 1848, a Woman's Rights Convention was held in Seneca Falls, New York.
Elizabeth Cady Stanton, Lucretia Mottled the fight for suffrage.
Some women were anti-suffragists, fearing that voting power would diminish their power in the home.
In 1851, Sojourner Truth defended Women's rights and "Negroes' Rights" at a women's convention in Ohio.
Susan B. Anthony, raised in a Quaker family,became active in the anti-slavery movement at an early age. She met Elizabeth Cady Stanton in 1851 and together they organized for women's property rights and voting rights in New York. She was a great speaker and strategist. On November 5, 1872 she and other women were arrested for voting "illegally".They cited the Equal Protection Clause of the 14th Amendment as justification for registering and voting.
The Civil War interrupted the fight for social reform and women's rights.
In 1866 the American Equal Rights Association joined the causes of black suffrage and women's suffrage.
In 1868, Anthony and Stanton created The Revolution, a weekly publication whose motto was: Men their rights,and nothing more; women their rights, and nothing less.
The Susan B. Anthony Constitutional Amendment for women's voting rights was soundly defeated in 1887.
Several western states passed laws allowing women to vote. The tough battle for suffrage was in the East. Illinois was the first state east of the Mississippi to pass a women's suffrage law, and not until 1913.
The woman's cause is man's. They rise or fall together. –Alfred, Lord Tennyson(1809-1892)
Ida B. Wells-Barnett,born a slave in 1862 Mississippi, became an anti-lynching activist, an advocate for women's suffrage, and she used her skills as a journalist to shed light on the plight of African Americans living in the South. She was critical of the larger women's suffrage movement for excluding black women.
1890 –the American Woman Suffrage Association and National Woman Suffrage Association merged into the National American Woman Suffrage Association.
"And so lifting as we climb, onward and upward we go,struggling and striving, and hoping that the buds and blossoms of our desires will burst intoglorious fruition 'ere long."-Mary Church Terrell(1863-1954), an African American educator and activist who championed racial equality and women's suffrage.
Alice Paul, another Quaker,went to England in 1907 to study at Woodbrooke in Birmingham, England. While abroad,she met and became involved with Emmeline Pankhurstand her daughters Christabel and Sylvia,and other women protesting for suffrage in a more radical and militant way than American women. The Englishwomen threw rocks through windows,confronted the police, got arrested and imprisoned, and went on hunger strikes – during which some women were force fed – all to fight for VOTES FOR WOMEN!
In 1910, Harriot Blatch organized America's first major women's suffrage parade in New York City. Hundreds of women carried banners and marched on Fifth Avenue.
Alice Paul returned to the United States in 1910. After earning her PhD from the University of Pennsylvania in 1912, she joined forces with Lucy Burnsand others to organize the first suffrage parade in our nation's capital. On March 3, 1913, the day before Woodrow Wilson was inaugurated, 5,000 paraded up Pennsylvania Avenue in Washington, with half a million on lookers.
American women continued to "take to the streets" for suffrage. On October 23, 1915, more than 25,000 women marched in New York City.
In 1917,the officers of the National American Woman Suffrage Association met with President Wilson. The National Women's Party, formed from the Congressional Union in 1916, began picketing the White House. Arrests of the pickets began in June.
State by state women were winning the right to vote. Women gained voting rights in New York. In Montana, Jeanette Rankin was elected to the U.S. Congress.
On January 10, 1918, the House of Representatives passed the Anthony Amendment, but the Senate failed to pass it.
On May 21, 1919, House again passed the Anthony Amendment, and this time, in June, the Senate passed it too.
The Amendment had to be ratified by 36 states in order to become law.
In August 1920, Tennessee became the 36thstate to ratify, and on August 26, 1920, the 19thAmendment to the Constitution was signed into law.
On November 2, 1920,American women were legally permitted to vote in the presidential election for the first time. For those involved in the suffrage movement, the day represented the culmination of years of hard work and sacrifice.
Women use your vote!