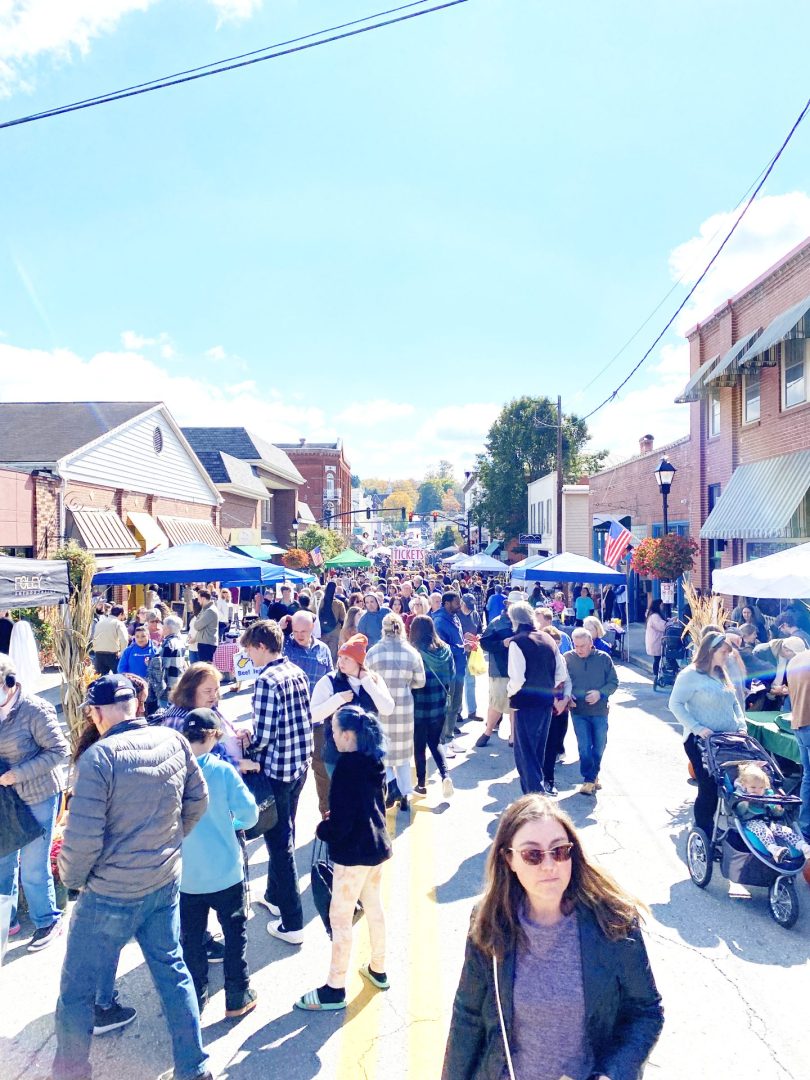 After two years of having to be canceled, Carnegie Hall's 36th annual Taste of our Towns (TOOT) proved once again why it is one of West Virginia's most popular festivals.  On Oct. 8, thousands of residents and visitors packed the streets of historic downtown Lewisburg to taste food and drinks created by over 30 regional vendors, listen to regional bands, participate in fun and educational activities, and experience Carnegie Hall's first ever Art Block which featured Carnegie's teaching artists selling and demonstrating their craft.
TOOT guests enjoyed a beautiful day, and the event raised funds for Carnegie Hall and other area nonprofits and businesses. This year, vendors collectively grossed over $58,500 in sales. Carnegie Hall received more than $23,000 as its 30 percent of vendor sales. Vendors took home nearly $36,000.
"We were so happy with the number of people who participated in TOOT," according to Development Director Sally Bray. "The weather was perfect, and our vendors were very happy with the crowd size and their profit."
Food and drink vendors included Adamo Building Arts, Aggie's-Vest, Better Homes and Gardens Real Estate Central, Blackwell's Catering, LLC, Child And Youth Advocacy Center, Faith Community Co-op, Foley Orthodontics, Food and Friends, General Lewis Inn, Greenbrier River Watershed Association, Greenbrier Valley Aquatic Center, Greenbrier Valley Beer Company, Greenbrier Valley Medical Center, Hambrick's Concession & Catering, Hawk Knob Cidery, Mammy and Me, Monroe County Cancer Awareness Team, Old Stone Presbyterian Church, Ragged Branch Distillery, St. Nicholas Orthodox Church, Stardust Café, Sixpence Pizza, The Chocolate Lady, The Greenbrier Sporting Club, The Greenbrier, The Schoolhouse Hotel WV, West Virginia Beef Jerky, and West Virginia Renaissance Festival.
For the first time, TOOT included an "Art Block" to showcase its teaching artists and educational opportunities. Live clay demonstrations were performed by teaching artists Sean O'Connell and Amie Durrman.
Education Director Harmony Flora concluded that "Presenting the Art Block as a new addition to this year's festival was a great opportunity to showcase the variety of talented teaching artists that participate in the educational programming at Carnegie Hall. For the public to be able to see our instructors doing live demonstrations of wheel throwing, hand building, woodturning, soap cutting, and wood burning is a great way to connect the process of creating art to the finished product and helps to spark interest for individual participation."
Carnegie Hall teaching artists included George Ayars and Theresa Filzen (Stained/Fused Glass), Kathy Talley (Baskets), Tommy Rafes (Soap & Spa Products), WV Woodturners Association (Turned Wood items), Jennifer Spencer (Wood-burning), and Luke Davis (Leather).
Entertainers included Blue Steel, Hello June, The Shootouts, Absolute Love Affair (ALA), West Virginia Renaissance Festival, stilt-walker Marcus Fioravante, and banjo player Keith Thomas.
Better Homes and Gardens Real Estate Central and Ragged Branch Distillery donated 100% of their proceeds to Carnegie Hall and The Greenbrier and The Greenbrier Sporting Club donated 100% less their expenses, contributing tremendously to the success of the event as a fundraiser. Without 2022 TOOT Sponsors the event would not be possible. The Title Sponsor was Boxell Solutions. Bronze sponsors included Greenbrier Medical Arts Pharmacy and Greenbrier Automotive Group.
Carnegie Hall would like to recognize following contributors:
Volunteers from the Carnegie Hall Board of Directors, TOOT Committee, Lewisburg Rotary, Boy Scout Troop #70, Church of Latter-Day Saints, West Virginia School of Osteopathic Medicine, as well as individuals who regularly volunteer for Carnegie Hall contributed largely to the success of the event.
The Greenbrier Valley Convention and Visitors Bureau sold tickets and promoted TOOT.
Special thanks to the City of Lewisburg Police, Fire, and Public Works, Gillespie's Flowers & Productions, Greenbrier Valley CVB, Greenbrier County Health Department, Greenbrier County Humane Society, Greenbrier Valley Theatre, Greenbrier Valley United Way, Lewisburg United Methodist Church, New River Community and Technical College, Simms Exxon, The Lewis Theatre, and ALA (Absolute Love Affair).
The 2022 TOOT Committee included Jill McIntyre (Co-Chair), Jennifer Orr (Co-Chair), Sally Bray, Mary Cole Deitz, Harmony Flora, Ross German, LeeAnn Gillilan, Teri Hartford, Margo Henderson, Misty Hill, Michael Kincaid, Philip McLaughlin, Jill McClung, Cathy Rennard, Sarah Umberger, David Ward, and Mayor Beverly White.
TOOT is made possible by the generosity and support of the community and is always held the second Saturday in October. Plans for next year are already underway. To learn more about how to become a sponsor, vendor, or volunteer next year, please call 304-645-7917 or visit www.carnegiehallwv.org