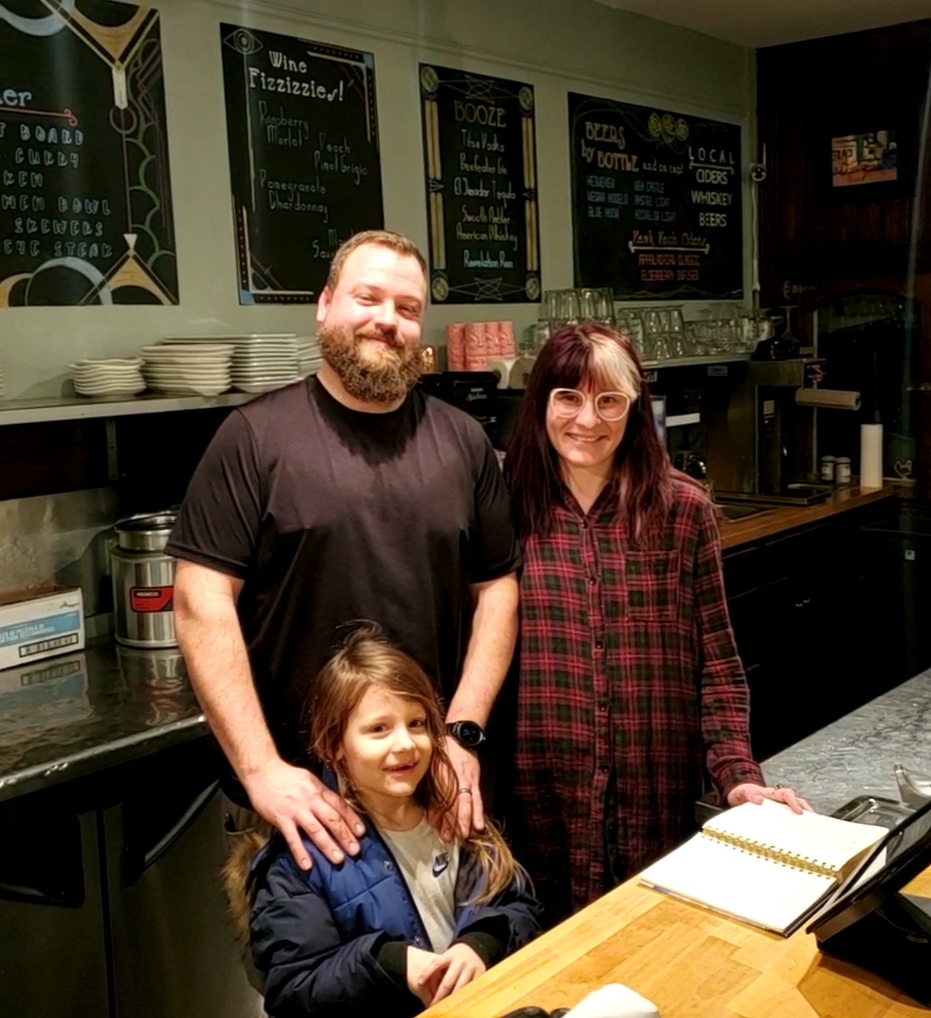 By Sarah Richardson
The beloved Stardust Café in downtown Lewisburg is shifting to new ownership, keeping a vibrant part of Lewisburg history alive. Sparrow and Aaron Huffman have owned and operated the restaurant for the last seven years. Before then it was Sparrow's mother, Elizabeth Destiny, who opened the space as the Stardust Café in 2005. Before it was Stardust, the space was Clingman's Market, run by Gwen Clingman, who was known for her devotion to feeding the community from 1945 to 2002.  
The new owner-operators are Dan Perry and his wife Savannah Webb, who have worked with Huffman for a number of years in various roles, and hold the café near and dear to their hearts.
"I've been a chef for over 15 years, and have worked for Sparrow for the last six years," said Perry. "I want to bring some things to the chefs we have on our team to help them produce the best food possible. We want to bring in some new equipment and some new options," but he specified that all the fan favorites will be staying on the menu, including the Forever Curried Chicken and the Trust Me Salad, to name a few.
Along with some technical updates, he looks forward to bringing in "new techniques" and seasonal menus that highlight local farmers and offerings from the Greenbrier Valley region.
"I want to hit up the farmers market, and showcase local farms," he explained. "We want to get in touch with the locals who can use this space to show their products and what we can do with them."
Perry was eager to accept the business offer from the Huffmans when it became available. "I love this place, and they are like family to us. So, through it all, they wanted to keep it in the family. They have multiple other businesses, including the General Lewis Inn, Aarons' contracting company, and Sparrow's yoga studio, three children and a grandchild on the way, so that's a lot on anybody's plate. Sparrow's mother was actually the one to start this destiny, she passed it along to Sparrow, and Sparrow has graciously passed it on to us."
Having grown up behind the Lewis Theater on Randolph Street, Perry has always been involved in the downtown scene. "I remember coming in here when it was Clingman's, and I remember coming in here to get some of her mashed potatoes and green beans."
One big change that the couple hopes they will be able to do is add some outdoor seating in the small courtyard behind the restaurant. "We're really looking into that option, it would be so cozy," said Webb.
"Lewisburg is just such an interesting corner of the state; I've actually had someone describe it to me as 'the San Francisco of West Virginia,' which I always thought was funny. But we have these little cafés and things that you don't see anywhere else, and one thing I'd like to bring in is that style of back courtyard seating area that's very classic," said Perry.
While the technical details get ironed out and permits get transferred, the Stardust will be closed for a short period. The couple is hoping to reopen as soon as possible, hopefully by early February.